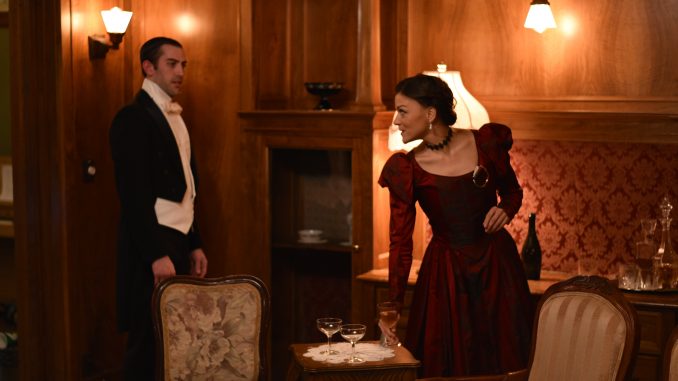 North Mansion in Berger Park has become quite the hot spot for intimate theatre in Chicago; in the past year, I've seen a contemporary play about queer parenthood and an immersive work of wide scope at this unique venue. But the historical building seems especially ripe for a period piece, and that's just what Ghostlight Ensemble has brought to it with their production of Oscar Wilde's An Ideal Husband.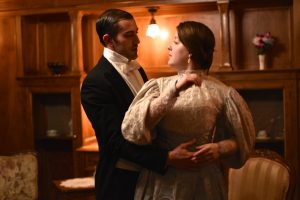 Nestled into two of the cozy, elegant rooms of the North Mansion, An Ideal Husband introduces us to the Chilterns, a married couple who appear on the surface to be the paradigm of virtue and English family values. But a secret in the past of husband Robert Chiltern soon bubbles to the surface when the scheming Mrs. Cheveley arrives from Vienna with plans to sabotage Robert's political career to her own financial advantage. Intrigue abounds as more characters are drawn into the affair and the plot twists and turns throughout the four-act performance. All the while, butlers Mason and Phipps observe, serve, and occasionally offer wry commentary. Michael Wagman, who plays both, brings such energy and snark to the roles that what might otherwise be unremarkable servant characters become highlights of the production.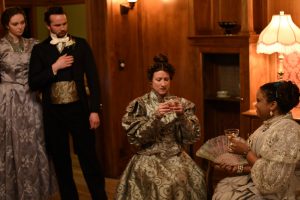 Sam Bianchini is immensely compelling as Mrs. Cheveley; perhaps it because her character delights in breaking so many of the rules of the strict society she lives in, or perhaps it is Bianchini's commanding stage presence (likely it's some combination of both), but I found myself privately rooting for her to succeed in her devious plans. Gertrude (played with pitch-perfect softness of tone and firmness of belief by Madeline Pell) is a bit too sanctimonious to be really likable and Robert is fairly bland. It's only the vivacity of the couple's best friend, Lord Goring, a "perfect fop" and the character who most resembles Wilde himself, that garners sympathy for the Chilterns at all; I wanted them to succeed only because he wanted them to succeed.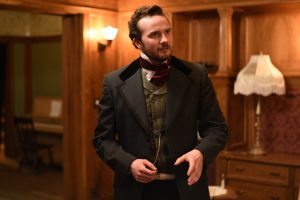 The gender politics of this play are rather bizarre; there's much talk about the difference between men and women, and most of the generalizations easy to brush off because of the absurdity of the rhetoric and the distance of time, but some of them are more troubling. The play ends with Gertrude delivering a speech reminiscent of Kate's at the end of The Taming of the Shrew: a woman's purpose is to be of service to her husband, blah, blah, blah. It's a rather disappointing ending to a story where the women have at least some agency and are written with intelligence, humor, virtue, vice, and all manner of multifaceted characteristics.
An Ideal Husband mixes the suspense and high emotions of a melodrama with the sparkling wit of Oscar Wilde. Although rather long (the play runs nearly three hours), it is a delightful show and highly recommended.
Ticket Information
Location: Berger Park's North Mansion in the Edgewater neighborhood of Chicago (6205 N. Sheridan Rd.)
Dates: April 7 to April 28, 2018
Times: Fridays at 7:30 p.m and Saturdays at 2:30 p.m. & 7:30 p.m.
Tickets:  $20 for general admission and are available in advance through Brown Paper Tickets. Discounts are available at the door for students, senior citizens, and industry professionals. For more information, visit the Ghostlight Ensemble website.
All photos by Maria Burnham/Ghostlight Ensemble.