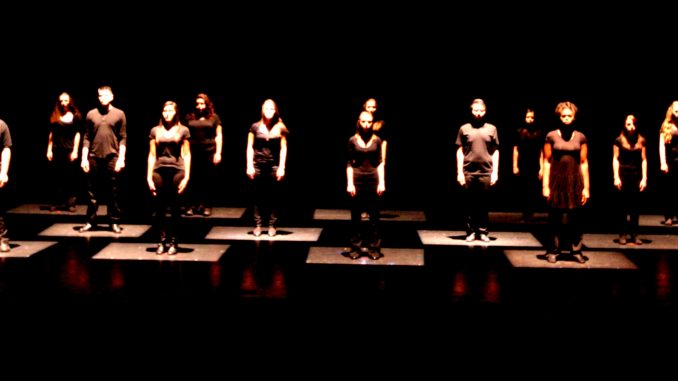 Through These Eyes which premieres this Thursday, April 12, at the La Mirada Theatre of the Performing Arts is a drama that encapsulates the overwhelming demands that teens face in striving for perfection as overwhelming importance is placed on looks, relationships, careers, and happiness. Attaining this lifestyle discipline comes with a high price; leading young people to obsessively create dangerous decision-making situations.
Through These Eyes, a drama written by Bruce Gevirtzman, directed by Steve Cisneros, and assistant directed by Emily Rose Githens, is an all-youth cast which follows the lives of a group of teens struggling to live up to the standards of society, the media, their friends and the vision they see for themselves every day in the mirror. Through These Eyes aspires to address the concerns youths face daily by sharing their personal experiences in an educational night at the theatre. Gevirtzman, through his years of research and observations on teen behavior, has written an empathetic script which exemplifies true life occurrences.
Phantom Projects Producing Artistic Director, Steve Cisneros, who founded the company in 1996, explains, "Through These Eyes is designed to help teen audiences have a healthier view of who they are and who they can become. It's a drama based on real life." What makes this drama unique is its post-show discussion with the audience and the performers. The theme of Through These Eyes represents the complex and stressful instances that many of the cast members have faced and will be presented on stage as much of the dialogue reflects the kinds of comments young people routinely make to each other in conversation or online.
To ensure the connections of Through These Eyes are authentic, Cisneros has cast teenagers and young adults from all over Southern California: Alexis Curry (12, Orange), Sonny J. Williams (13, Cerritos), Daphne Stift (14, Chino Hills), Naomi Lodoen (14, Camarillo), Lexie Gilstrap (14, Placentia), Tony Trandafir, (15, Commerce), Maddy Nickless (16, Costa Mesa), Summer Martin (17, La Mirada), Roxana Franco (18, Garden Grove), Fernando Perez (18, La Mirada), Madeline Rath (18, Whittier), Joseph Leonardo Ortega (19, Covina), Tessa Githens (20, Fullerton), Ashley Amezcua (20, Los Angeles), Kyle Bassett (21, Garden Grove), Emily Cintron (21, Orange). Most importantly, the personal successes the cast members have struggled to overcome will be revealed as well.
Cisneros, who founded Phantom Projects Theatre Group at the age of 17 and who was recently honored as an Ambassador of Peace by the Violence Prevention Coalition of Orange County, seeks to promote theatre productions to elementary, middle and high schools in Southern California with compelling topics which include but are not limited to subjects such as bullying, harassment, racial profiling, and prejudice. Additionally, Phantom Projects presents fully staged productions at the La Mirada Theatre for the Performing Arts that are aligned with common core curriculum and on school reading lists.  The 2018-2019 season will include such classic literature as The Outsiders and Wonder.
Tickets to Through These Eyes are available by calling 714-994-6310 or 562-944-9801 or going online to PhantomProjects.com.  Performance times are 10 am and 7 pm and a limited number of BEHIND THE CURTAIN seats are available with includes a backstage tour, a cast-signed poster, photo with the cast, and more.
Tickets: 10 a.m. all seats $10; 7 p.m.: Students: $10-$25, Adults: $15-$25, Behind the Curtain: $55. Group discounts available.
Get a sneak peek of Through These Eyes here: https://www.youtube.com/watch?v=HPuLKYr0n_k
What are teens on tour? Check out what great things are going on at Phantom Projects Theatre Group:                     https://www.youtube.com/watch?v=iW_ujroIH9U