If you love the glitz and glamour of Hollywood as well as spectacular food, Planet Hollywood Resort & Casino Las Vegas recently debuted Café Hollywood. Café Hollywood brings you all of the history of the iconic Planet Hollywood, while providing you with a dining experience that is the perfect blend of Las Vegas and Hollywood.
You can't help but be awe struck as you walk past the 5,500 square-foot restaurant that is filled with 35 over-sized monitors and photo galleries of nostalgic entertainment moments. The walls are filled with pictures and videos of countless moments from the 25 years that Planet Hollywood has been wowing fans. Very quickly you will go a walk down memory lane to being astounded by a menu that is anything but café like.
Café Hollywood lets you know you are in for much than a typical café dining experience from the moment you sit down as you can start off you dining experience with a charcuterie plate or a crostini trio that features such combinations as pear and gorgonzola cheese. The appetizers seem to be endless at Café Hollywood but the spicy Brussels sprouts definitely a must-order dish. The Brussels sprouts are roasted and given a nice crispy char and are brought to life with a Sriracha mayonnaise and then given and over-the-top flavor combination of pork belly and lime crema and then it is all topped off with a fried egg. Of course you will find plenty of classic and fun appetizers such as wings, nachos or Kobe beef sliders.
When it comes to your main course, Café Hollywood has one of the widest ranging menus in all of Las Vegas, but if you love a good burger you might want to stop right there. The two that really separate themselves from other burgers and go well beyond any typical burger are the Hollywood burger, of course, and the Southwest burger. Anything with pork belly on the Café Hollywood menu seems to be a winner and it is once again as it makes its way onto the half-pound Hollywood burger and then it is topped off with a fried egg and if that wasn't enough, a little garlic aioli really pushes the flavor boundaries on this burger. The Southwest burger has a little bit of heat but it is not over-the-top hot from the fried jalapeños, while giving a wonderfully unique texture to the burger and the fresh guacamole completes the experience. If you get a burger, make sure to bring your appetite as there is nothing small about the burger or the toppings, you will leave more than satisfied.
The menu continues to stagger the senses with options such as: blackened chicken pasta or shrimp and spaghetti squash or short rib ragu as well as the black & bleu NY strip steak or the surf and turf. We have to go back to the pork belly one last time with the pork belly ramen. It is almost hard to believe that with everything else that Café Hollywood has on the menu they could prepare this dish at such a high level. The shoyu base broth is very flavorful while still allowing all of the other ingredients to shine. The dish is highlighted by the richness of the pork belly, but all of the fresh ingredients such bean sprouts, bok choy and bamboo shoots all come together in a wonderfully well rounded ramen dish.
The one thing you absolutely must do at Café Hollywood is save room for dessert, which is a tough task. Café Hollywood literally has a pastry shop and from the taste of their desserts, you would think that was all they did because they are that good. The shakes simply have to be experienced and seen in person to understand the creativity that goes into each one. The cosmic cotton candy super nova, starts off with a hand-dipped cotton candy milkshake and from there it just grows by adding white chocolate covered pretzels and topping it off with cotton candy, a lollipop and rainbow sprinkes or go with the strawberry version which somehow is topped with a slice of birthday cake. Café Hollywood certainly knows how to do cakes, with slices that could feed an entire table, with nothing more rich and decadent five-layer carrot cake that comes with cream cheese icing, is rolled in pecans and topped with fresh whipped cream. That is just the beginning, there is a dessert for every sweet tooth at Café Hollywood.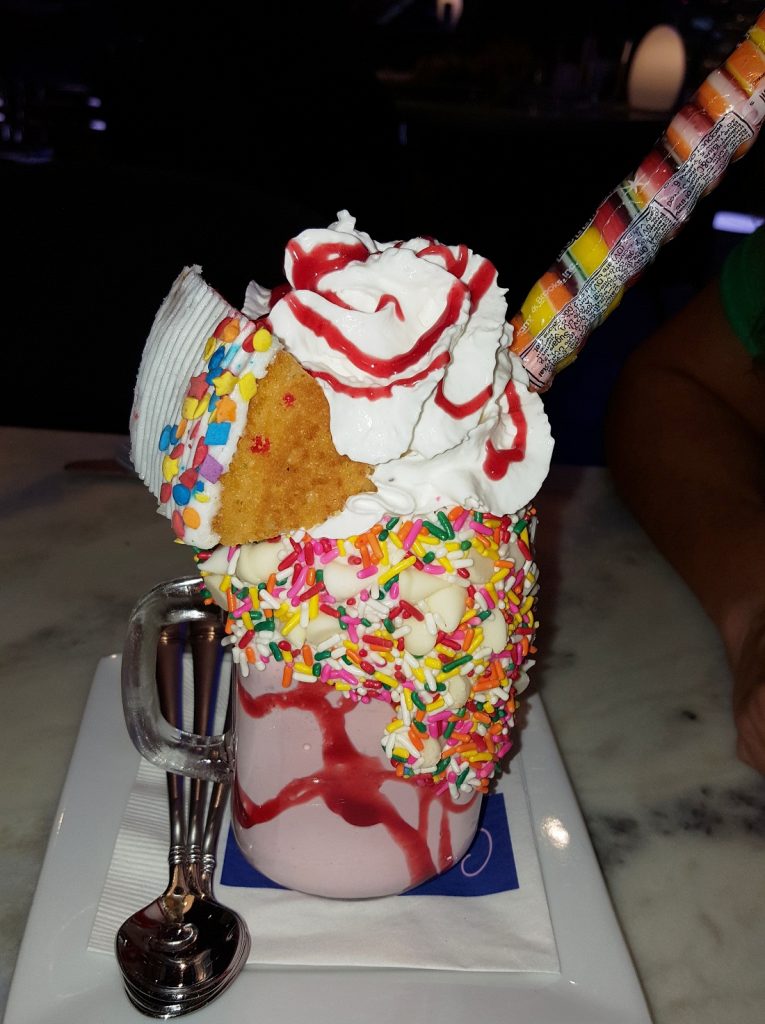 Café Hollywood is a café, in that they are open 24 hours a day so if you want to get one of the over-the-top milkshakes at 4 a.m., you can do just that. Regardless of the time of day or night, Café Hollywood is not only going to entertain you as the visuals in the restaurant walk you through Hollywood, but it will also entertain your taste buds. Café Hollywood simply sets the standard for all other cafés to be measured against and needless to say everyone else has their work cut out for themselves.
For more information, visit: Café Hollywood