The 2018 SXSW Conference & Festival in Austin brought an interesting and meaningful TV series that we were all so excited to see. Splash Magazines had an exciting interview with the main cast of the TV from Starz "Vida" which is set to premiere on Starz on Sunday, May 6, 2018. The TV Series won the Episodic Audience award during SXSW 2018.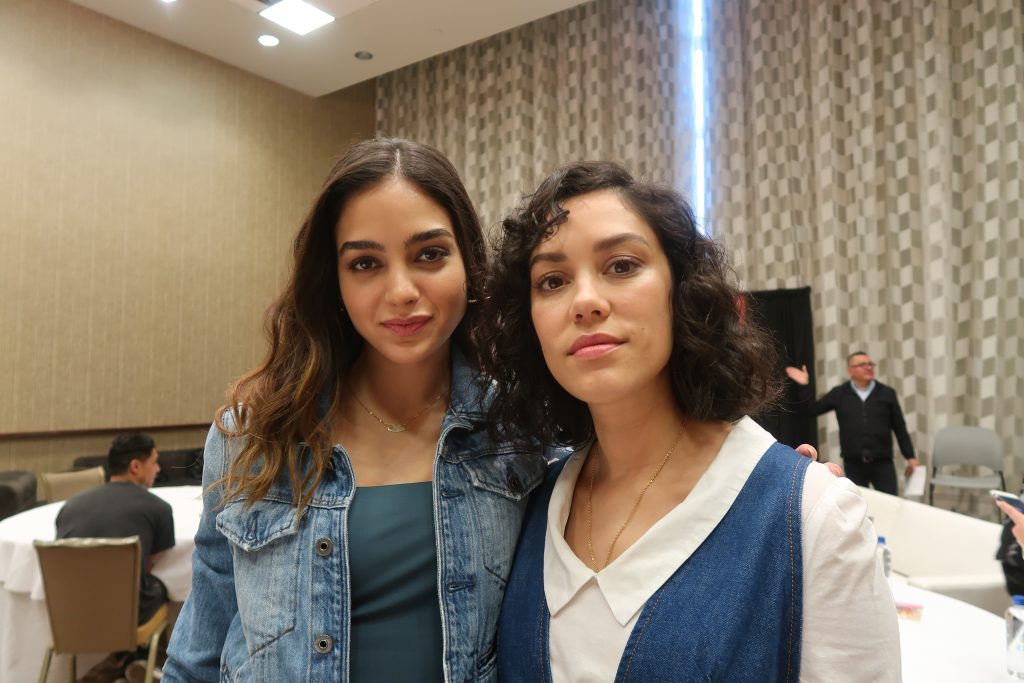 The series, from showrunner Tanya Saracho ("How to Get Away With Murder", "Looking", "Girls" "Devious Maids") had the principal cast: Mishel Prada ("Fear the Walking Dead: Passage"); Melissa Barrera ("Perseguidos", "Siempre Tuya Acapulco"); Ser Anzoategui ("East Los High", "Shameless", "The Fosters"); Chelsea Rendon ("The Fosters"); Carlos Miranda ("The Bling Ring", "Dallas") and Maria Elena Laas ("Vital Signs").
The half-hour TV show follows two Mexican-American sisters, "Emma" (Mishel Prada) and "Lyn" (Melissa Barrera), who return to their old neighborhood on the Eastside of Los Angeles and are forced to confront their mother's shocking past. The sisters couldn't be more different and distanced from each other. When both sisters are forced to return home, they are confronted by the past and discover the surprising truth about their mother's identity.
Our writer Yenis Monterrey from Splash Magazines had an exclusive interview with the main cast  Mishel Prada (Emma) and Melissa Barrera (Lyn)
Yenis Monterrey.- Mishel Prada (Emma), I'm very excited about your role. How would you describe your character?
Mishel Prada.- I play Emma Hernandez, and she is very strong and driven. She takes what life has given her because she has been running an emotional path because she has been pretty much left behind. She came back to her former town when her mother passed away and it's when she comes to realize to evaluate of who she is, because she has a very strong idea of who she is, and she created this persona who thinks she is very secure, but it turns out when she gets home. She has a sister  Lyn (Melissa Barrera) who knows who Emma is like nobody else and that creates an interesting dynamic with both of them and of course, Emma doesn't like it.
Yenis Monterrey.–  Melissa Barrera (Lyn), I know your character is super exciting and I want to get to know the person you impersonate as Lyn. What's the most meaningful way to describe your role?
Melissa Barrera.- I play Lyn, the younger of the two sisters. Lyn is the opposite of Emma. Emma is the brain and Lyn is the heart, she is all about love and she doesn't know how to be by herself. She is constantly looking for someone to be her anchor; for example, her rich white boyfriends, sister, mother, her old flame, or anyone. She doesn't find value in herself alone and she doesn't really know who she is and she keeps looking for that in other people and other things. She is kind of messy by just pretending she is worry or carefree but she is having a hard time. She is one of those women who are all fun and fun to be around, are social and have friends, but when she goes to bed she cries every night.
http://https://www.youtube.com/watch?v=Z0Ic766yWFE
Yenis Monterrey.-  I love where television is getting trying to portray all the diversity with the Latino population and have a lasting TV show for the Latino community for more than one season, It's a big change that needs to be done as well on the big screen with blockbusters and keeping in mind someone with Latin roots, I can't wait for that moment! What's your opinion on this topic?
Melissa Barrera.- I think television is better and it's taking steps in the right direction where we have seen more and more representation of minorities and latino as a community. We are not yet in where we are supposed to be but hopefully shows like this one – "Vida" on Starz will open more doors in the future. This is not only a show about Latino characters, but it's also a show about families and people trying to survive and that's what makes TV so universal and we really hope everyone can relate to this TV series.
Mishel Prada.- The show is opening the door and we can inspire others to create TV shows like this one. Tanya Saracho did such an amazing job with the writer's room and we want to see other shows with a diverse cast. In the United States we don't have one specific race, we have many races and we have a lot of different stories that need to be told which is so exciting for everyone.
Follow Splash Magazines on Twitter @SplashMagWW  Instagram @Splashmags       Facebook
Follow Yenis Monterrey (Writer) Twitter @Foxactress Instagram @YenisMonterrey
Follow STARZ on Facebook
Follow STARZ on Twitter
Follow STARZ on Instagram