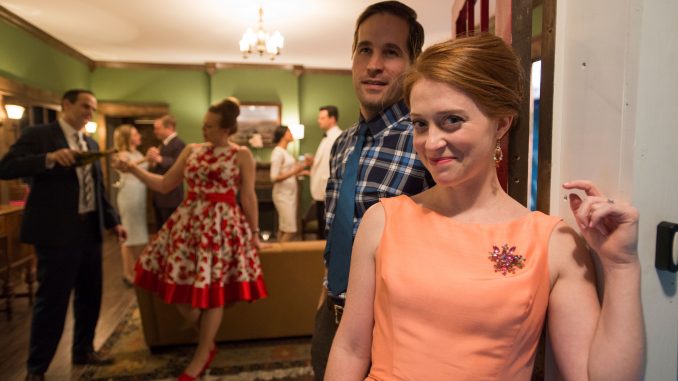 "That play seemed to revolve a lot around cocktails," my boyfriend told me as we left Windy City Playhouse last night.
"Honey," I said. "It's a play about a Southern dinner party. That's just realism."
Southern Gothic is indeed a play about a Southern dinner party, featuring four couples with long histories, complicated connections, and a host of secrets, all of which come unraveled over the course of a single tumultuous evening. Within the Windy City Playhouse, the 1960s home of Beau and Ellie Courtier is constructed in its entirety, including a kitchen, dining room, living room, bathroom, and back porch. Seating is provided in the living and dining rooms, and audience members are encouraged to move throughout the home during the show. The audience is also welcome to the food and drink available at the party, including the aforementioned cocktails; audience members can enjoy a Tom Collins or glass of champagne right alongside the partygoers.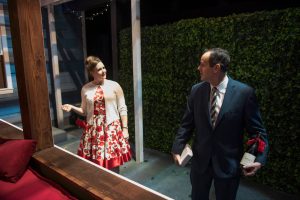 Unlike many immersive theatre performances, Southern Gothic takes place in a relatively confined space, so while audience members are free to move around and viewing every single scene is impossible, there are only a handful of rooms to travel through and only two or three scenes going on at a time. This gives audience members fewer choices of what to view and where to be, which makes this play a great choice for anyone who's interested in immersive theatre but intimidated by the level of audience involvement. The one downside, however, to the smaller space is the overlap of sound that sometimes makes it difficult to focus on a single scene and can be overwhelming at times.
Southern Gothic is perhaps the wrong title for this piece; while the play, set in Atlanta, contains many staples of Southern culture, from the aforementioned steady stream of cocktails to the frequent gossip and passive-aggressive commentary by the characters, it does not center on the haunting emptiness of white people dwelling on the past in a post-Civil War South, as is the staple of the titular genre. The Southern accents are also lacking at times, especially that of Peter Ash, who plays Tucker and often sounds more British than Georgian. Brianna Borger, however, who plays socialite and birthday girl Suzanne not only nails her dialect, but also brings remarkable and energy and flair to the privileged Southern belle.
Many expected elements are at play; naturally, in a drama with four couples, there's going to be at least one affair, and with this setting, it wasn't a question of if the characters would say something overtly racist but when (it's about 30 minutes in, give or take, with the arrival of Cassie, the play's only character of color). But there are unexpected surprises, too, like the genuine romantic connection between Beau and Ellie that is one of the most charming parts of the play or an incredible opportunity for Cassie at the end of the show, facilitated by a brave choice by politician's wife Lauren.
Southern Gothic is not your average white-people-arguing-over-dinner play; the immersive storytelling makes for a unique experience that is as delicious as the best cocktail or the juiciest gossip. And of course, the show has plenty of those as well.
Ticket Information
Location: Windy City Playhouse, 3014 W. Irving Park Rd.
Dates: Open run. Tickets currently on sale through April 22.
Times: Wednesdays and Thursdays at 7:30 p.m., Fridays at 8 p.m., Saturdays at 4 p.m. and 8 p.m., and Sundays at 2 p.m. and 6 p.m.
For a detailed performance schedule visit Windy City Playhouse's Events Calendar. Capacity for each performance is limited; prices and showtimes are subject to change.
Tickets: $65 -$85 are now on sale through April 22. To purchase, visit the Windy City Playhouse Box Office online or call the Box Office at (773) 891-8985.
All photos by Michael Brosilow.