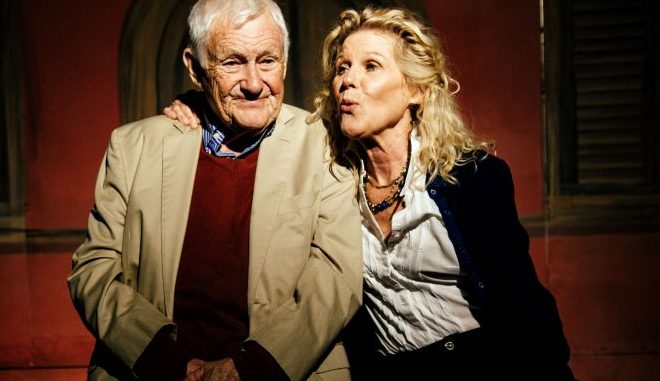 Orson Bean and Alley Mills are poignantly engaging as lovers who beat the odds and find each other later in life. The autobiographical story covers the years before their meeting – and after – to charm the audience with their fresh and gentle view of a relationship that was meant to be.
Directed by Guillermo Cienfuegos, the pair shine as they grow up before our eyes, each with his own set of painful and delicate memories. As Orson Bean opines, "We kept shoes on lots of kids from all the shrinks we saw over the years." Absent, abusive, or uncaring parents, however, just seemed to make the two better able to handle stress and loss – and appreciate success all the more. Perhaps Pacific Resident Theatre artistic director Marilyn Fox's memory of lines from J.M. Synge's "The Playboy of the Western World" summarizes it all: "It's miracles, and that's the truth…me there toiling a long while, and walking a long while, not knowing at all there was the like of you drawing nearer, like the stars of God."
Orson Bean's solo show, "Safe at Home, An Evening with Orson Bean," was last year's PRT hit and certainly encouraged this follow-up account of the special moments between Orson and his future wife, Alley Mills. These are two people who are very different – in age, education, and history – and yet they are also very much alike on an emotional level. Both achieved notice through their stand-out acting abilities – Orson by his stage, film, television, and comedic skills and Alley in television, films, and stage (including a stint with Shakespeare). By the way, Orson shares the story of how he got his name with his lucky audience.
The play performs in Guillermo Cienfuegos' and David Mauer's French provincial setting which, to quote Orson Bean, is a left-over from PRT's earlier production. Nonetheless, it somehow fits comfortably into the current romantic account. Matt Richter's lighting and Christopher Moscatiello's sound add depth to the play – and keep the focus where it belongs. Overall, the entire production team has managed to keep the narrative heart-warming, authentic, and incredibly moving. Even slight missteps during the performances lend an endearing quality to the play as a whole. These are people who can make mistakes in life but still keep forging ahead anyway.
ALRIGHT THEN runs through March 25, 2018, with performances at 8 p.m. on Thursdays through Saturdays and at 3 p.m. on Sundays. Pacific Resident Theatre is located at 703 Venice Blvd., Venice, CA 90291. Tickets range from $25 to $34. For information and reservations, call 310-822-8392 or go online.