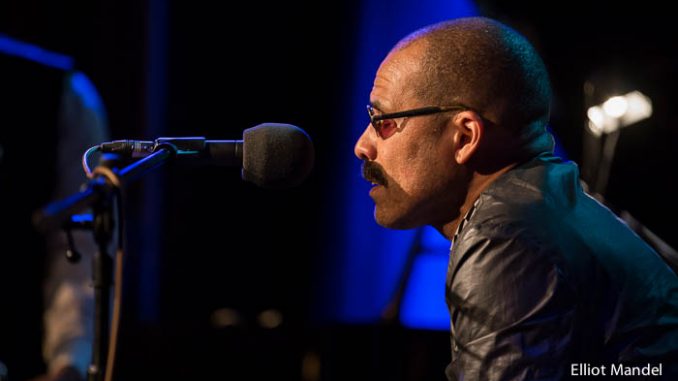 Chicago jazz wonder, percussionist/composer/conductor Kahil El' Zabar has toured for the past 45 years during February, Black History Month, when he is "sought after by entities looking for the type of cultural performance" he offers.
This is an artist in a league of his own. He's both scored films and himself been the subject of a recent documentary. He's conceived and produced a discography of 60+ well-received projects. He holds an honorary PHD in inter-disciplinary arts; he's taught at various universities. He was appointed to the National Task Force on Arts In Education by President Clinton in 1994 and received the International Ambassador's award from President Obama's administration in 2012. He was named Tribune Chicagoan of the Year in 2006 and was Knighted as a Chevalier by the government of France in 2014 for his contributions during an 11-year Artist in Residency in Bordeaux.
First and foremost however, this is a man who loves creating and playing great music, as a driving force in arts organizations and his own bands. This year, he'll be taking his Ethnic Heritage Ensemble (EHE) featuring baritone saxophonist Alex Harding and Corey Wilkes, trumpet, on a multi-city U.S. and Canadian tour, entitled "Improvised Soul", playing 20 concerts in 4 weeks.
This reviewer had the opportunity to interview the self-described "student of life" on the eve of his departure for the tour about his work, his colleagues on the tour, and the evolution of his musical sound.
Already a major presence in the Association for the Advancement of Creative Musicians (AACM) at 19, and thereafter to be a collaborator with such greats as Dizzy Gillespie, Cannonball Adderley, Nina Simone and Paul Simon, El'Zabar led the Ethnic Heritage Ensemble in its first appearance in 1973 with the goal "To combine concepts of African American music with it's earlier roots in traditional African music, to produce new motifs and sounds true to their origins yet firmly pointed in a new artistic direction". After 45 years, and a rich and compelling, ever-evolving sound, this renowned band is still going strong.  El' Zabar says he has "loved every moment of the music".
Over the years, the other members of the EHE have changed. "There have been a lot of great musicians who have played in this ensemble. The various members have influenced the sound, which is constantly growing based on the contributions of the artists."
About his colleagues on the current tour he remarked, "Alex Harding is a very kind person with a lot of love in his music. He's diligent in the study of his instrument and has a vast understanding of the history of Black music. He shares the stage in an elegant and supportive manner and is also a fine soloist". Of Corey Wilkes, he added, "I'm so proud of his growth as a musician; he's also a fine human being. He's an extraordinary stylist with a very personal approach and an individual sound. When I listen to him, it gives me hope in the future romance of music; he's very lyrical".
He noted, "The spirit of one's approach comes first, even before the technical virtuosity. All the facility in the world with nothing that comes from the heart doesn't make good music."
About what the Black History tour means to him personally, El' Zabar stated, "The basis of the strength of any artistic evolution has come from ethnicity. It's very important for the world to know about the contributions that Black people have given to music". He looks forward to a future in which "All people, all ethnicities, all contributors will share and be heard all the time in a continuous natural integration".
KAHIL EL' ZABAR'S ETHNIC HERITAGE ENSEMBLE 45th ANNIVERSARY TOUR, "IMPROVISED SOUL" 2018:
February 1, Santa Cruz, CA., 7:30 p.m. www.michaelsonmainmusic.com
February 2, San Francisco, CA. 9 p.m. www.birdbeckett.com
February 3, Berkeley, CA. Private Concert
February 4, Oakland, CA. www.eastsideartsalliance.org
February 9, Rockford, IL., www.facebook.com/sanctuaryatonespiritcenter
February 10, Evanston, IL., 8 p.m. www.cultivateurbanrainforest.com/event
February 14, Montreal, Canada, 8 p.m. @La Sala Rossa www.suonlperilpopolo.org
February 15, Ottawa, Canada, 8 p.m. www.mercurylounge.com
February 16, Toronto, Canada, www.calibanartstheatre,cim/events
February 17, Detroit, MI., 8 p.m. www.nnamdicenter.org
February 18, Toledo, OH., 8 p.m. www.ohiotheatretoledo.org
February 19, Baltimore, MA., Private Concert
February 21, Baltimore, MA., Private Concert
February 22, NYC, 9:30 p.m. www.bogardusmansion.com www.75clubnyc.com
February 23, Washington, D.C., 7 and 9 p.m. www.transparentproductions.org
February 24, Baltimore, MA., 9:30 p.m. www.andiemusiklive.com/events
February 25, Rochester, NY., 7:30 p.m. www.bopshop.com/events
February 26, Buffalo, NY., 8 p.m. www.hallwalls.org/music/5975
February 28, Chicago, IL., www.chopintheatre.com
March 2, Chicago, Il. www.promontorychicago.com/music-venue/shows