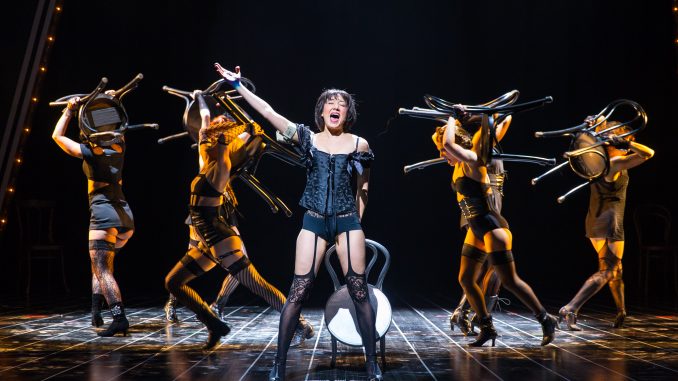 With book by Joe Masteroff, music by John Kander, and lyrics by Fred Ebb, CABARET has become one of America's favorite musicals since it premiered on Broadway in 1966. But the story has an even longer life span. Originally a short novel penned by Christopher Isherwood in 1939 called "Goodbye to Berlin," the tale was adapted by John Van Druten in his 1951 play, "I Am a Camera." The 1966 musical ran for 1165 performances on Broadway and won Tony awards in 1967 for best musical, best original score, best direction, best supporting role, best choreography, best set design, and best costume design.
The overwhelming list of "bests" spawned the film version in 1972 which starred Liza Minnelli, Michael York, and Joel Gray. Not to be outdone by the stage production, CABARET won eight Oscars, including best direction (Bob Fosse), best actress (Liza Minnelli), and best supporting actor (Joe Gray). Although nominated for best picture, the film lost to "The Godfather." CABARET has been revived multiple times across the globe, and, in 2018, is reborn at La Mirada Theatre for the Performing Arts.
The time is 1931, and the place is Berlin, Germany. A young, struggling American writer, Cliff Bradshaw (Christian Pederson) is visiting Germany for the first time. What better place to spend the occasional evening than the seedy Kit Kat Klub, renowned for its cheap prices and amoral approach to just about everything? And what better person to introduce Cliff to late Weimar Germany that the Kit Kat emcee (Jeff Skowron)?
Cliff just happens to get a room at a local boarding house where none other than English songstress Sally Bowles (Zarah Mahler), the star of the Kit Kat, also lives. When she has a falling out with her boyfriend, owner of the Kit Kat, she finds herself jobless, cash challenged, and homeless – but chivalrous Cliff can't let that happen. His initial resistance quickly gives way to burgeoning love. Especially since the two must share one bed. Meanwhile, Cliff's spinster landlady, Fraulein Schneider (Kelly Lester), finds love and acceptance in the arms of her elderly suiter Herr Schultz (Jack Laufer), a charming Jewish fruit seller who unexpectedly pops the question. And so two lonely people will soon share a life – or will they? For this is a drama which takes place during the rise of the Nazis into power.
Directed by Larry Carpenter, with musical direction by David O and choreography by Dana Solimando, CABARET takes off with explosive ease. John Iacovelli's scenic design is superb, as are David Kay Mickelsen's costumes, Steven Young's lighting, and Josh Bessom's sound. The entire production team conspires to bring Germany of the early 1930's to vivid life. This is a compelling account of a time in history which has its own fireworks to offer as Hitler emerges from obscurity to prominence. The excellent CABARET cast keeps the audience on the edges of their seats. CABARET songs never grow old, and the cast brings fiery life to a story which has been told many times – but feels somehow new and very relevant today in their able hands. This is a not-to-be-missed production.
SPLASH SELECTION
CABARET runs through February 11, 2018, with performances at 7:30 p.m. on Wednesdays and Thursdays, at 8 p.m. on Fridays, at 2 p.m. and 8 p.m. on Saturdays, and at 2 p.m. on Sundays. La Mirada Theatre for the Performing Arts is located at 14900 La Mirada Blvd., La Mirada, CA 90638. Tickets range from $20 to $70. For information and reservations, call 562-944-9801 or go online.