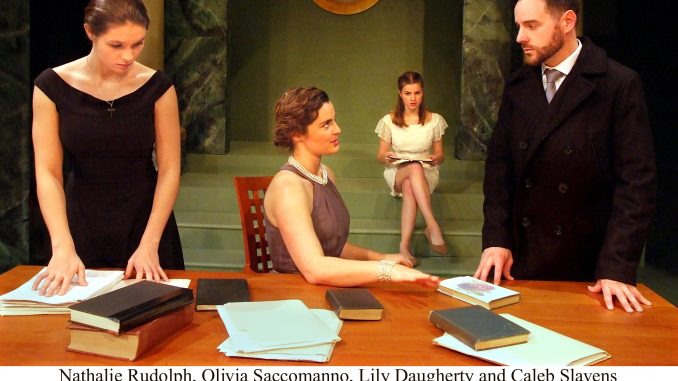 After seven attempts, Henry VIII finally met Katherine Parr, who would become his eighth wife and outlive the king. Playwright Kate Hennig has drawn a compelling portrait of this brilliant and accomplished lady – and certainly the first feminist at a time when woman and powerless were synonymous. Of course, like Henry VIII, Katherine Parr had her marital ups and downs. In fact, Henry VIII was her third husband; and she would eventually become a bride four times. Of course, marital bliss began at an early age in the sixteenth century.
Author Hennig's captivating story of the three years Katherine Parr (Olivia Saccomanno) was married to Henry VIII (David Hunt Stafford) draw the audience into the life and times of Henry's court. Even though Katherine finds herself involved in a flirtation with Thomas Seymour (Caleb Slavens), the brother of Henry's former wife, who can say no when the king proposes?
Katherine proved to be a formidable and fascinating mover and shaker in her time. She became the stepmother of two other powerful women, the young and impressionable Bess (Lily Daugherty), who would become Queen Elizabeth I, and the rigid but caring Mary (Nathalie Rudolph), better known as Bloody Mary. She left indelible marks on their futures – and in fact convinced Henry to change the law so that female offspring could succeed to the British throne. She trained her stepdaughters and her stepson Edward (Andrew Grigorian), who became King Edward VI, in the fine art of ruling. And she was herself regent of the country for six months while Henry was off to war in France – unheard of for a woman.
Director Flint Esquerra does a superb job of taking history and turning it into a very human story of individuals struggling with their destinies. Of course, Esquerra is ably assisted by a competent ensemble of actors who breathe life into a century long gone. Saccomanno and Stafford keep the friction churning in their May-December union, while Rudolph and Daugherty give depth to two historic and appealing kids who will grow up to be very special indeed as they too leave their marks on society.
Jeff G. Rack's set lends life to the fabled "marbled halls" of a kingly palace, while Brandon Baruch's lighting and Joseph Slawinski's sound help to move things along. THE LAST WIFE is performed in modern dress. Perhaps the only disappointing issue in the production was the absence of the elaborate clothing of Henry's court. This reviewer couldn't help but long for some attractive finery to punctuate the time of place of the story. Nonetheless, this is an excellent production and should prove exciting, entertaining, and simply fun for the viewer. Besides, THE LAST WIFE will be a learning experience for many in the audience. They'll get to know and appreciate Katherine Parr, about whom there has been little written. After all, Henry's other seven wives were also intriguing and fascinating. And don't forget about Henry himself.
THE LAST WIFE runs through February 18, 2018, with performances at 7:30 on Thursdays through Saturdays and at 2 p.m. on Sundays. The Reuben Cordova Theatre houses Theatre 40, located at 241 S. Moreno Drive, Beverly Hills, CA 90212. Tickets are $30. For information and reservations, call 310-364-0535 or go online.