A new year and a new season begins at the Redondo Beach Performing Arts Center with the classic Broadway hit musical by Walt Disney, "MARY POPPINS," brought to life by ENCORE South Bay.
The timeless classic was first introduced to audiences in 2004. Co-created by Cameron Mackintosh, this award-winning musical is a combination of the original stories of P.L. Travers, author Julian Fellowes' book and the 1964 Walt Disney film starring Dick Van Dyke and Julie Andrews that premiered in West End and immediately won international acclaim. The ENCORE adaptation brought back some of the original Sherman Brothers music with a live orchestra, dance performances and stage flying for viewers of all ages to enjoy. New songs and added music were provided by George Stiles and Anthony Drewe.
The production took months of intense planning and rehearsals by over 70 cast and 100 crew members and volunteers. To realize this ambitious project, Summer Dey Cacciagioni, the Artistic Director and founder of ENCORE, worked with Executive Director Tracy Schiller, Choreographer Jorie Janeway, Vocal Director Daniel Nakawatase, Technical Director Marcelo Cacciagioni, Stage Manager Maya Rodgers and Orchestra Conductor Matthew David Visk. Renowned theatrical service Flying by Foy provided the flying system, with Assistant Director Mike Ghekiere flying the cast. Stage Monkey provided the visual effects and custom props for that extra touch of real-world magic.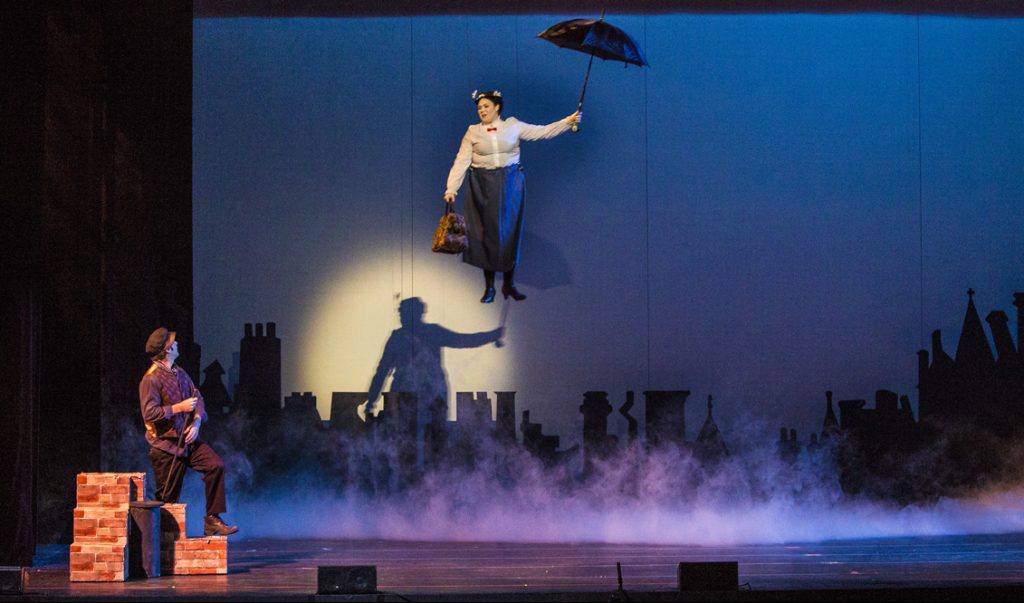 Leah Morales starred on closing night as Mary Poppins, the title character and whimsical nanny who pops in, and sometimes flies in, to the strict and proper Banks household on London's Cherry Tree Lane. Using a bit of magic and perfectly timed intuition, she turns everything into "a fairyland of their own" for the family through silly and spontaneous fun, music, and dance.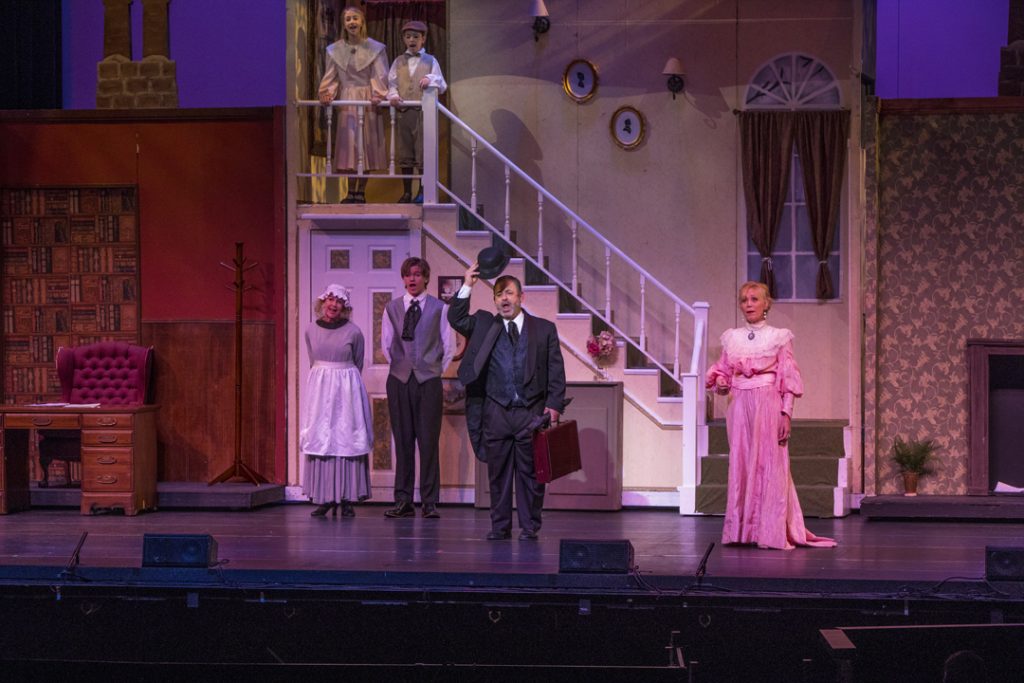 Being no stranger to this role, Morales brilliantly portrayed her character's nuances, showing viewers anew how "anything can happen if you let it." The matriarch Mrs. Winifred Banks, played by Jennifer Werfelmann, grows fond of their new nanny and her way of handling the ever-restless Banks siblings. Even the rigid and distant pater familias George Banks, played by Rich D'Anna, could not keep his inner child hidden from her charm… or her special "spoonful of sugar."
Joining the magic on stage were Jed Sura as Bert the Chimney Sweeper, Renee Sura as Mrs. Brill the Housekeeper and Nathan Byrnes as Bank Chairman Mr. Dawes. Alan Sanborn portrayed the Park Keeper, while Gabriella Gordon, Ashley Lopresto, Amelia Paulson and Cameron Taylor made the "walk in the park" scene come alive as the statue dancers.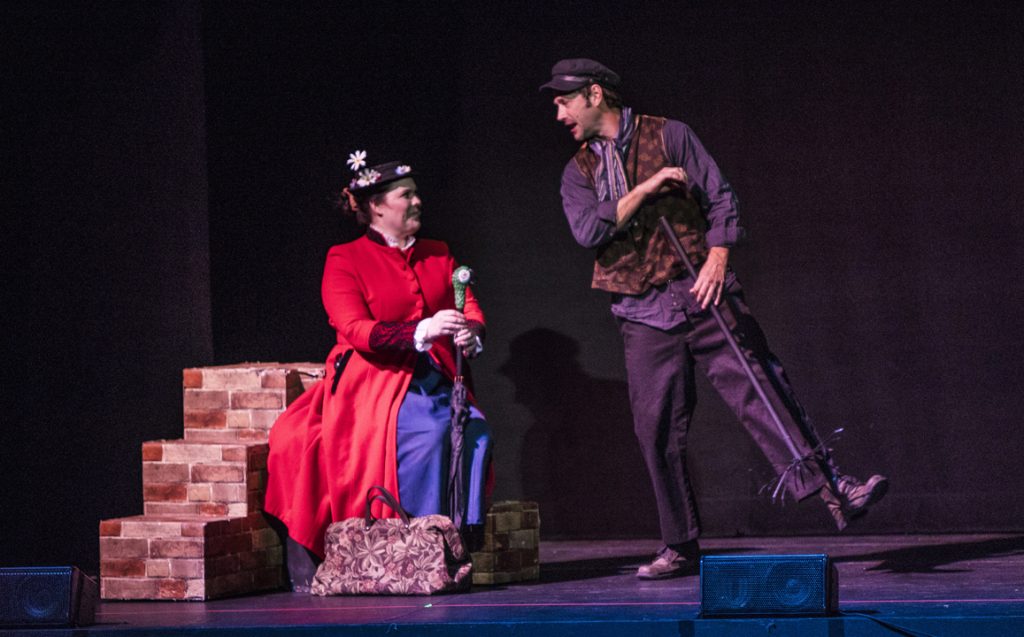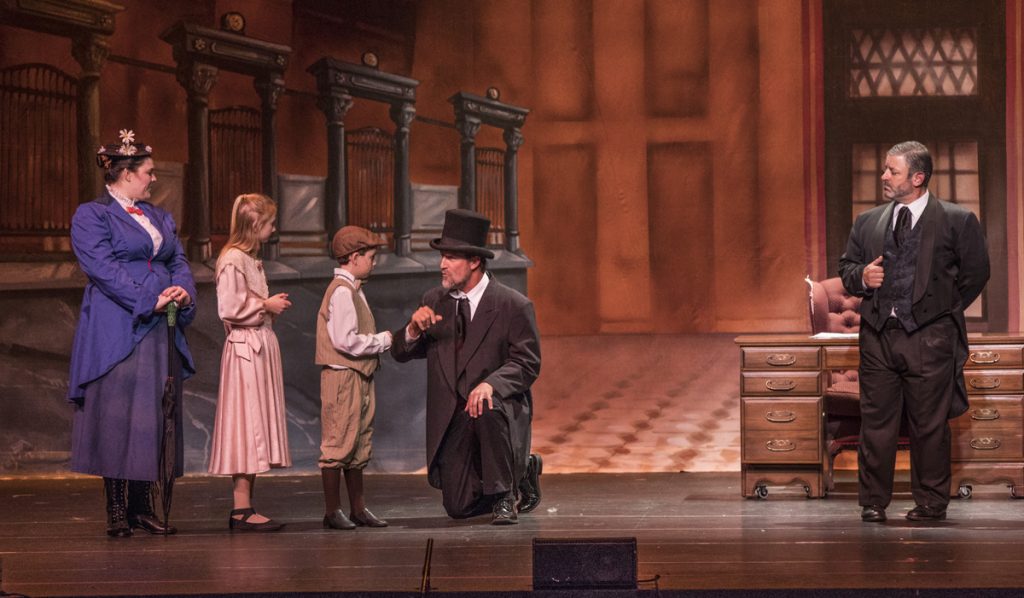 Several cast members alternated characters in addition to their main role. The title character Mary Poppins was portrayed by both Leah Morales and Emma Werfelmann. Eating sugar to help the medicine go down, the outspoken Jane Banks was portrayed by Grace Liakos and Iris Sura, while Henry Deane and Declan Sullivan played Jane's younger brother Michael Banks.
Both Miles Muir and Phil Prendergast play the role of Robertson Ay. Danielle Jordan and Serita Richardson played Mrs. Corrie, while Fannie Corrie was played by Tara Fermanian and Joelle Lewis. Jeannine Barba and Chantelle Jordan played the "nanny-from-hell" Miss Andrew, while Maya Richardson and Julia Thau played Katie Nanna. Lizzy Sheck played both roles of the aptly named Bird Woman and Neleus, while Craig Byrnes reprised the roles of both Admiral Boom and Von Hussler. Brian Werfelmann portrayed the bank loan customer, Mr. Northbrook, as well as the Police Officer. Thespina Patronas, who served as the understudy for Mrs. Banks, portrayed Miss Lark along with Leis Ellison. Other understudies included Miles Muir as Bert, Craig Byrnes as George Banks, Julia Thau as Bird Woman, Alan Sanborn as both Admiral Boon and Von Hussler, Dimitris Patronas as Mr. Dawes, Phil Prendergast as John Northbrook and Daniel Hill as Park Keeper.
The cast also included an animated troupe of singers and dancers of all ages, from spirited chimney sweepers to an adorable waddle of penguins. The audience was treated to a musical buffet with classic numbers as "Let's Go Fly A Kite," "Jolly Holiday," "Chim Chim Cher-ee," and the unforgettable "Supercalifragilisticexpialidocious." The set design and lighting provided the perfect balance of fantasy and realism, while the flying, acrobatics and visual effects on stage helped whisk the audience away to the wonderful world of MARY POPPINS and Cherry Tree Lane.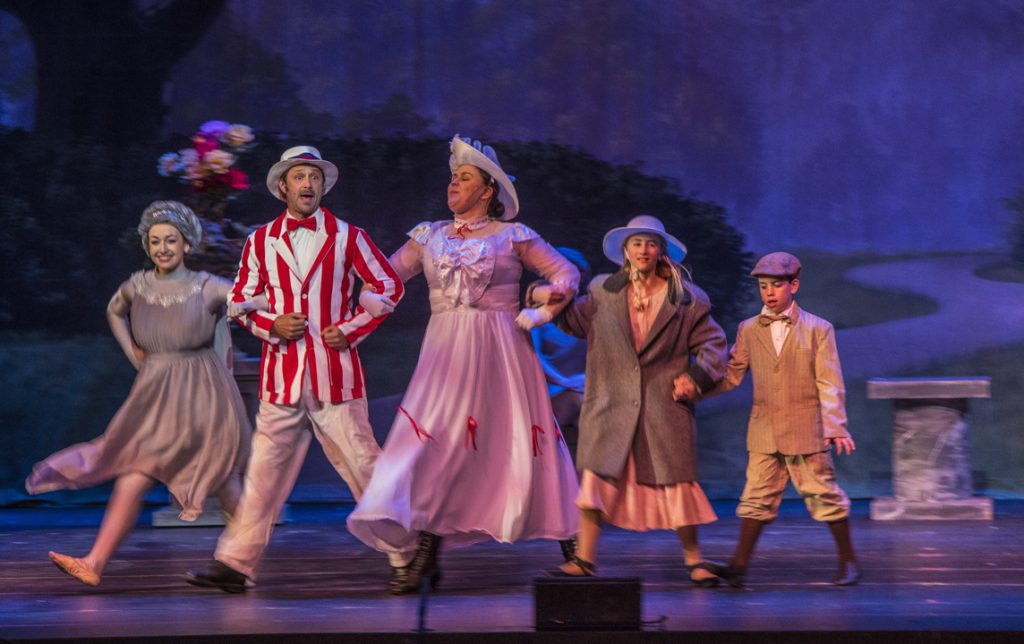 The show was a huge success, bringing a full house to every performance including closing night. The audience joined in the merrymaking, clapping and singing along to the tunes, and erupted in a standing ovation during the final reprise of "A Spoonful of Sugar."
After the curtains fell, the crowd packed the lobby and lined up for photos with their favorite characters. The passion and dedication of everyone involved certainly paid off. ENCORE has created an unforgettable experience that lived up to the magic we've all come to know and love from Disney… easily worthy of a five out of five-star rating.
ENCORE South Bay is now going on its 11th season, and is currently showing "Seussical," a musical take on the children's classics by Dr. Seuss. For more information and to get involved, call (310) 896-6459 or visit the encoresouthbay website
Photos by Myles Regan.