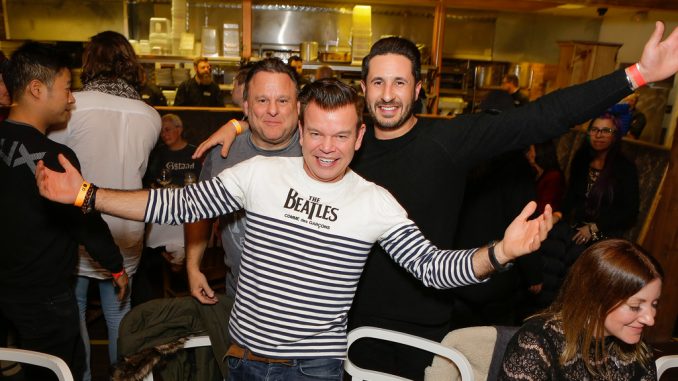 This past weekend Park City was overrun with celebs, media, and insiders for the Sundance Film Festival. Created by Robert Redford, the festival sheds light the hard work on well-known as well as notable filmmakers and actors, and also just happens to have the most insane pop-ups, breathtaking views, that you wouldn't want to miss.

Among the roster of events – ChefDance, a celebration of food and friends. Each evening guests enjoy a well-crafted meal prepared by world famous chefs.
We were lucky enough to attend day one of the festivities and enjoyed a four -course meal prepared by Chef Luigi Fineo, Michelin Starred Chef (Luigi Al Teatro, LA). Anytime you're able to start start a meal with a lobster bisque, you know you're in for a treat. By far the best I've ever had, the complexity of the dish was sheer perfection. Complete with chunks of lobster this soup set the tone  for the evening. 
This year happened to be the 15th year of ChefDance at Sundance, rightfully so the fete is now an official partner of the well known film festival. 
In addition to ChefDance, the space also served as a hub for private parties. For the first time ever and in
partnership with Creative Playground, ChefDance hosted the inaugural "49 Remarkable Women + 1 Really Cool Dude,"  a five star, exclusive ChefDance event at Sundance Film Festival. The intimate, high profile dinner was prepared by Chef Shawn McClain, (James Beard Chef, Sage, Las Vegas).
 The 49 women celebrated are beyond remarkable! They are innovators, leaders, and trailblazers in Entertainment, Business, Arts, Social Justice & Philanthropy. Scooter Braun was also spotlighted at the event, serving as the only male Honoree ("1 Really Cool Dude"). In the wake of the Women's March and Times Up Movement, the evening celebrated female empowerment, support, and Women's Rights . 
Women's right activist Gloria Allred, an honoree of the night, gave a moving speech. One of her most impactful quotes of the evening was  "A man of quality will never be threatened by a woman of equality." She also addressed Scooter Braun saying, " Scooter, you're the one cool dude because I've sued all the rest." Guests enjoyed surprise performances byInterscope artist "Cloves" and Grammy award winning singer and songwriter Siedah Garrett. The evening was sponsored by Sysco, Diet Coke, Lamborghini, Voss, Kona Brewing Co, One hope Wine and Refinery 29. 
To complete the night SafeHouse l supporters partied till 4am and enjoyed y those who supported SafeHouse. The space provoded a Hip Hop Jam session with the Black Eyed Peas, Kosha Dillz, KRS1, and Common. Black Eyed Peas are in Sundance this year as they are launching a new VR Comic Book Master's of The Sun: The Zombie Chronicles. Will I Am got up and performed a 4 minute jam session- free style. 

Over the years Sundance Film Festival has become more than films, and ChefDance is proof. Where fashion and status merge, ChefDance at Sundance Film Festival is in a league of its own.

FRIDAY, JANUARY 19 (Day 1)
Cocktail Reception & Dinner Series (7:30 -8:30PM Cocktail Reception, 8 – 10:30PM Dinner)
o             Chef: Chef Luigi Fineo, Michelin Starred Chef (Luigi Al Teatro, LA), 
SATURDAY, JANUARY 20 (Day 2)
Cocktail Reception & Dinner Series (7:30PM – 10:30PM)
o    Chef Shawn McClain, James Beard Chef (Sage, Las Vegas); 
SUNDAY, JANUARY 21 (Day 3)
Cocktail Reception & Dinner Series (7:30PM – 10:30PM)
o             Chef Beau MacMillan, Iron Chef America (Sanctuary, AZ) 
MONDAY, JANUARY 22 (Day 4)
Activation: THE ART OF ELYSIUM CHARITY NIGHT AT CHEFDANCE 
Cocktail Reception & Dinner Series (7:30PM – 10:30PM)
·  Chef Brian Malarkey, Top Chef & Tv Host, (Herringbone, San Diego
A ChefDance invitation has become the most coveted invite at the Sundance Film Festival. ChefDance invites great guests, companies, and chefs to celebrate food, culture, and film enthusiasts in an exclusive setting. ChefDance

 promises great experiences, great connections, and unforgettably great moments.