This past weekend I had the opportunity to see The Book of Will (written by Lauren Gunderson, directed by Jessica Thebus) at Northlight Theatre, which is centered around the remaining players of Shakespeare's troupe, The King's Men, and their friends and family who set out on a quest of sorts to preserve Shakespeare's legacy — and, by extension, their own.
It is during the course of their attempts to compile and publish a complete collection of Shakespeare's works that one gets a better sense of the times in which they lived, and who the surviving players — John Heminges (Jim Ortlieb), Henry Condell (Gregory Linington) and Richard Burbage (Austin Tichenor) — the other members of the company — Ed Knight (Luigi Sottile) and Ralph Crane (Thomas J. Cox) — and their families — including Rebecca Heminges & Anne Hathaway (Rengin Altay), Elizabeth Condell (Mckinley Carter), Alice Hemings & Susannah Shakespeare (Dana Black) — really were, as well the love of their craft, the history of the Globe Theatre, their friendships, and the memories and special meaning that the theatre held for them.
In addition, the play also offers an inside look at the very real difficulties faced by the troupe in attempting to compile and publish Shakespeare's work, which included securing funding (as printing was done at considerable expense), finding a printer who was able to take on a project of that magnitude and — perhaps most difficult of all — locating accurate usable copies of each of his plays — a task made all the more difficult by the fact that many were destroyed when the first Globe Theatre burned down years before.
On the whole, The Book of Will, is an exceptionally well written, well acted,  relatable — , at times, humorous — look at the life and times of William Shakespeare and his company, and one that I would highly recommend.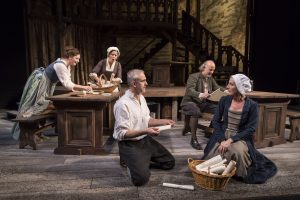 The Book of Will runs through December 17, 2017 at Northlight Theatre. Curtain times are Tuesdays at 7:30 pm (November 14th and 21st only), Wednesdays at 1:00 pm and 7:30 pm, Thursdays at 7:30 pm (except Thanksgiving Day, Thursday, November 23rd), Fridays at 8:00 pm, Saturdays at 2:30 pm (except November 11th) and 8:00 pm, and Sundays at 2:30 pm and 7:00 pm (November 12th and 26th only). As always, it is recommended that you consult the theatre's website to verify performance days and times.
Northlight Theatre is located at the North Shore Center for the Performing Arts, 9501 Skokie Boulevard in Skokie. To purchase tickets to The Book of Will log onto the Northlight Theatre website or call the Box Office at 847-673-0500. To learn more about Northlight Theatre, the rest of the 2017-2018 season, or any special events associated with this production — including the upcoming "Inside The Book of Will" at the Skokie Public Library (5215 Oakton St., Skokie, IL) and "Popping Up with Austin" at The Book Stall (811 Elm St., Winnetka, IL), which will be held on Thursday, November 30th and Tuesday, December 5th, respectively —  please log onto the theatre's website.