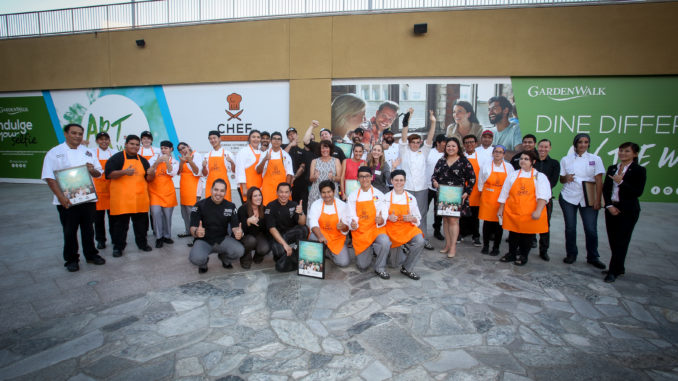 Anaheim GardenWalk is home to a plethora of fabulous restaurants and on Sunday, October 22nd, guests were able to experience some of the great flavors that these restaurants offer at the free Chef Challenge. Guests were able to enjoy a stunning Southern California afternoon strolling through Gardenwalk and enjoy bites from every restaurant.
The event featured sample signature dishes from participating restaurants including: House of Blues Anaheim, Fire + Ice Grill + Bar, Grasslands Meat Market BBQ & Churrasco, McFadden's Restaurant & Saloon, California Pizza Kitchen, P.F. Chang's, McCormick & Schmick's Grille, Roy's Restaurant and Bubba Gump Shrimp Co. Once guests visited each restaurant they voted on their favorite dish and McCormick & Schmick's Grille walked away with the prize for the fan favorite with their pan seared salmon that was paired with roasted potatoes, perfectly charred Brussels sprouts and it was complimented with a bourbon sauce glaze.
While this was a chance for chefs to show off their best food and for guests to enjoy it, the event also featured high school students enrolled in culinary arts programs throughout Orange County who also competed in the inaugural Chef Challenge event. Twenty top culinary students have been selected to serve as sous chefs, helping chefs from nine Anaheim GardenWalk restaurants prepare signature dishes for sampling. The culinary show-down is raising money and awareness for the county's high school culinary arts programs.
Gardenwalk has become the place for dining in Anaheim as you will not find a list of restaurants of this caliber in one setting like you will find here. California Pizza Kitchen was showcasing their hand rolled strozzapreti pasta with mushrooms, showing they are much more than pizza. P.F. Chang's was treating guests to their very well-known and tasty chicken lettuce wrap. Roy's had scallop in a half shell with a little surprise for you as they added pop rocks to enhance your experience. Bubba Gump they went with always a favorite, their coconut shrimp popsicle. Fire + Ice prepared one of the best burgers you will ever taste and if you visit there the list of food is so long you might amazingly forget about the burger. McFadden's was serving up their authentic Irish Guinness stew. House of Blues showed that they are more than music as they served their voodoo shrimp with an amazingly unique jalapeno-cheese cornbread. You can go for the music, but stay for the food at House of Blues. Finally, fairly new to Gardenwalk is Grasslands. If you like meat and BBQ this is the place for you and they also have a long list of local beers on tap to enjoy with their slow smoked ribs.
While there is so much to eat don't forget about everything else that Gardenwalk has to offer as guests got to try out the VR Gaming and see the great artwork from S. Preston Art + Designs art gallery. Sockerbit Sweet & Swedish was sampling some of their treats that are loaded with flavor and give you a true Scandinavian candy experience. For the kids you can't forget Billy Beez which is a can't miss spot to throw a party for the child in your life.
The Chef Challenge was a great way to experience Gardenwalk, but if you missed it you really can't go wrong visiting any or all of the restaurants they have to offer. One little tip, if you enjoy happy hour, Gardenwalk is home to the best and highest quality happy hours in all of Anaheim.
For more information,visit: Gardenwalk