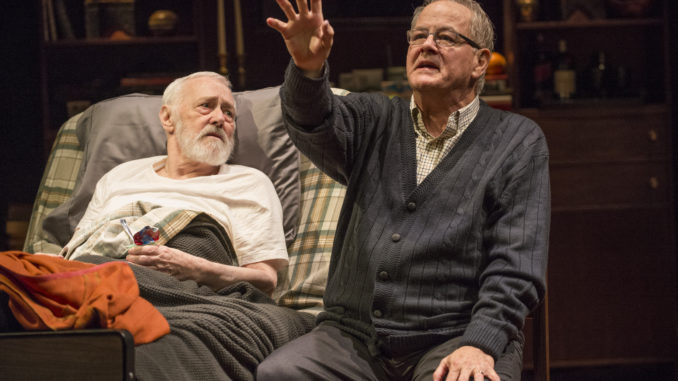 Jessica Dickey's "The Rembrandt", currently being presented Upstairs at Steppenwolf Theatre, 1650 N. Halsted, through November 5th, is a well-staged, well-acted, and often funny production, which, however, suffers from focus deficits.
The play can't decide if it's a time-travel fantasy making fun of distinguished historical/cultural figures, a diatribe on the intrinsic value of art with insider asides about the "types" who appreciate art, or a drama/tragedy about how to help your lover die. Any one of these plots would be ambitious; the effort to present all these differing points of view in 90 minutes unfortunately results in a pastiche of half-realizations.
"The Rembrandt" opens in an unspecified museum -probably the Metropolitan in New York- with a senior guard, Henry (whose poet husband, Simon is terminally ill), a new young Mohawk hairstyle- wearing guard, Dodger, and a young art student, Madeline, who interact a bit.
Much of the early play consists of Henry's speechifying based on rhapsodic admiration for a work of art, Rembrandt's "Aristotle With a Bust of Homer". The human tragedy of this man's life is his inability to take care of Simon; Henry can express love only for the inanimate objects with which he works. Interestingly, the paintings on the set, although bathed in light, are empty.
Henry, Madeline and Dodger get caught up in goading themselves to "touch the art." Although supervised and warned by another gun-wielding guard, Johnny, they succumb and are carried back in time to Rembrandt's home in Holland and Homer's home in Greece. Henry morphs into Rembrandt, Madeline becomes Rembrandt's housekeeper/paramour, (his wife is dead) and Dodger becomes Rembrandt's son. Homer, whose wife is also dead, likewise makes an appearance per extended soliloquy. None of these historical personages or their relationships ring true, as they are scripted with the language of broad caricature and farce.
Why on earth is Rembrandt presented as a spendthrift sot defecating on stage? Why does his grown son sit in his lap? Why would Homer describe his wife's cuckolding baker boyfriend in terms of his dough-kneading capabilities? How did we get to these portrayals from a first scene of such impassioned reverence declaimed for one of the truly great art works/artists/philosophers of all time? The answer lies in the playwright's desire to conflate too many points of view into a single piece of work.
Somehow the trip across the centuries which brings to life the historical giants works as a catharsis, and humanizes Henry, freeing him from oratory and delivering him to the sickbed where he should have been holding vigil all along. He's also been fired for touching the art. Henry ends up at home, alternately sharing treats with Simon and wailing about how neglectful he has been.
These mood swings are endemic throughout the play, which veers from inspiring if sophomoric pronouncements about ART to abundant scatological references and repeated exhortations (I counted 6) to "Suck my d*ck!" from Simon.
The climactic- and hands down best scene- is imbued with tenderness due to 2 very fine performances by John Mahoney and Francis Guinan as true lovers and best friends- one is losing his hold on life itself, the other is losing his life's love.
Kudos to the cast, all of which deftly portrayed dual roles. "The Rembrandt", directed by Hallie Gordon, features Ty Olwin, Karen Rodriguez and Gabriel Ruiz; Joe Dempsey will replace Francis Guinan from October 24-November 5.
For information and tickets to all the fine productions by Steppenwolf Theatre Company, go to www.steppenwolf.org
All photos by Michael Brosilow