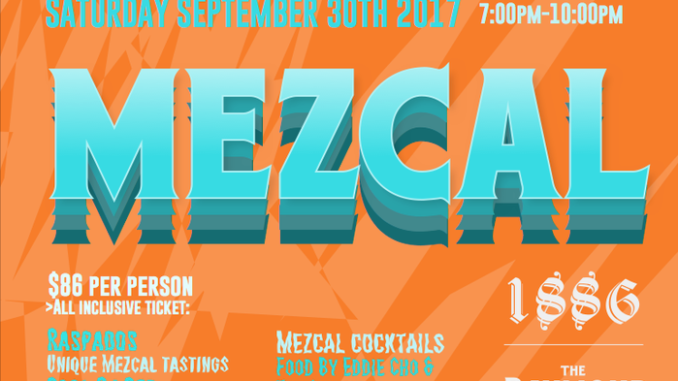 Los Angeles does not play by the rules of traditional seasons, and while the rest of the Northern Hemisphere may have traded tank tops for cozy sweaters, summer is alive and kicking at The Raymond 1886 where the sun will still be shining for The Raymond 1886 Endless Summer Mezcal Party coming up Saturday, September 30th, 2017!

Held at the amazing, speakeasy style restaurant in Pasadena – The Raymond 1886 is notable in its own right. Despite being off of the beaten path the restaurant boasts delicious and intriguing bites unlike any other and the cocktails surely won't leave you disappointed either! We couldn't be more pleased that they decided to have one last hurrah – as it is one of our favorites! 
This Saturday The Raymond 1886, amidst National HIspanic Heritage Month, will be honoring the contributions and presence of Hispanic and Latino Americans, and Head Barman Peter Lloyd-Jones by leading the revelry with one-of-a-kind mezcal bottlings, signature 1886 mezcal cocktails, and cocktail fair prepared by Executive Chef Tim Guiltinan on The Raymond patio from 7:00 pm to 10:00 pm with beats by DJ Ces. Trust us, this will be one party you won't want to miss!
Made from the heart of the agave plant and twice distilled, the smoky and alluring mezcal is the stuff of literal legend; the ancient Zapotec civilization called mezcal the elixir of the gods, and is still used today for ceremonial blessings, honoring the dead, and celebrating the latest addition to a family. It is without question mezcal is the ideal libation with which to say farewell to summer, and The Raymond 1886 has you set with an all-inclusive ticket! Guests are greeted with a mezcal inspired Raspados, a South of the Border style slushie traditionally made of fruit, blended with ice and seasoned with Chamoy, a spicy Mexican condiment. Two more mezcal cocktails will follow, starting with the Saladito, comprised of lime, honey, mezcal, chile and salt, and rounding off with the Mezcal Buck, featuring ginger, lime amaro, mezcal, and soda. Up next are two very special mezcal tastings, showcasing the best of what The Raymond 1886 has to offer. Oaxacan flavors will also enrapture the tastebuds with delectable cocktail fare provided throughout the event by Executive Chef Tim Guiltinan and Sous Chef Eddie Cho, along with dessert from Pastry Chef Raymond Morales. Add the scratching and mixing of DJ Ces, and this is one summer party you will never want to end!
Ticket Information: Tickets to The Raymond 1886 Endless Summer Mezcal Party are $86 per person (tax and gratuity included). For more information or to purchase tickets, please visit Eventbrite.com or call The Raymond 1886 directly at 626.441.3136.
The Raymond 1886 is open for Lunch Tuesday through Friday from 11:30 am to 2:30 pm, for Dinner every Tuesday through Sunday from 5:30 to 10:00 pm and for Brunch every Saturday and Sunday from 9:00 am to 2:30 pm. 1886 is open every Tuesday through Thursday, 4:00 pm to 2:00 am every Friday and Saturday, and 4:00 pm to 12:00 Midnight every Sunday. 1886 Happy Hour is every Tuesday through Friday from 4:00 pm to 7:00 pm. For more information or reservations, please visit www.theraymond.com or call The Raymond 1886 directly at 626.441.3136.