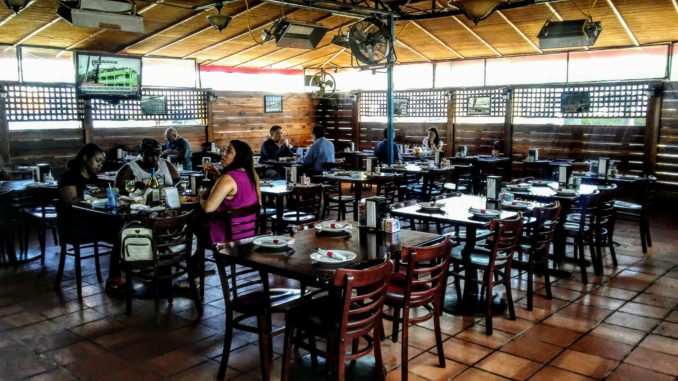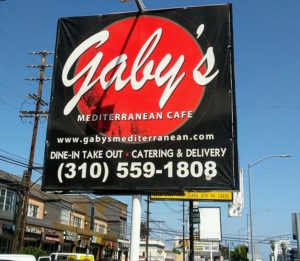 Gaby's Mediterranean on Venice Blvd in the Culver City area has been a beloved institution for going on 14 years now. With great food, wonderful friendly service and very reasonable prices this is a great spot for a casual lunch or dinner. Regulars often talk of Gaby himself stopping by their table to say hello and sending over a complimentary dish. With a cozy environment you really feel like family when you are here. Come enjoy live Jazz music on Friday nights and a Hookah lounge area on the front patio that is popular in the evenings. Unique to the Culver city area Gaby's serves dinner till midnight on the weekends and 11 PM on weeknights.
The perfect spot to grab a late bite after a movie. Here they offer all the traditional dishes such as Falafel, Humus, meat and chicken kabob, and Baba Gannouj. But Gaby's is so much more than that. My favorite dish is the unique Lemon Chicken, with skinless chicken breast sautéed in Lemon juice and olive oil in a light creamy sauce served with rice.
All main dishes also come with an excellent large complimentary salad. There are several other chicken dishes to choose from such as Rotisserie Chicken, or Chicken Kafta, ground chicken with onion and parsley in a homemade garlic sauce. We also loved the Lamb Chops, perfectly seasoned and tender they just melt in your mouth.
Of course there are several Lamb and Beef dishes to choose from like Beef Arayis, ground beef marinated in tomato, onion and parsley served inside pita bread. Sambousik are traditional Lebanese style Empanadas stuffed with seasoned beef and  pine nuts. Sfecha is a homemade dough stuffed with seasoned beef dish with onions, pine nuts then baked to perfection.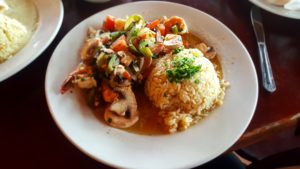 The night we dined they had a wonderful Shrimp with vegetables we enjoyed and their Salmon is also very well reviewed. There are five salads to choose from including Phoenican Lamb Salad, Judy's Salad, a Greek salad with chicken Kabob cubes, and Leon's Chicken Kabob Salad. Just to name a few.
Dinner at Gaby's Mediterranean  isn't complete without a homemade Baklava dessert made daily at the restaurant. They are located at 10445 Venice Blvd. LA. CA. 90034 Phone number 310-559-1808. They have a wonderful catering division to handle all your party needs.
And if that isn't enough Gaby has opened directly next door his brand new Freshway Pizza. Again his prices are fantastically reasonable. We went the following night after our Mediterranean dinner and enjoyed a wonderful large pizza where we did different toppings on each half to accommodate our different tastes. Create your own pizza toppings and watch them cook this thin crust pizza in just 3 minutes.
They also offer gluten free dough and add a house salad for only $2.75. They offer kids pizza as well including a juice box. Most of their business is take out but they have a few outdoor tables where we sat and enjoyed our meal.They also offer an array of cooked sandwiches on fresh made breads and several pastas.
You choose what type of pasta, pick your sauce and meat all for $9.50. Add shrimp for $2.50 more. We had a Fettuccine Alfredo with chicken. Did you know that Alfredo sauce is an American invention and are not served at all in Italy. Freshway also offers marinara, cajun cream, pesto, olive oil and garlic. Freshway pizza is located right next door to Gaby's Mediterranean at 10429 Venice Blvd. Phone number for takeout orders is 424-603-4899.
Photos Provided by Mitchel Sacharoff and Matt Oxman