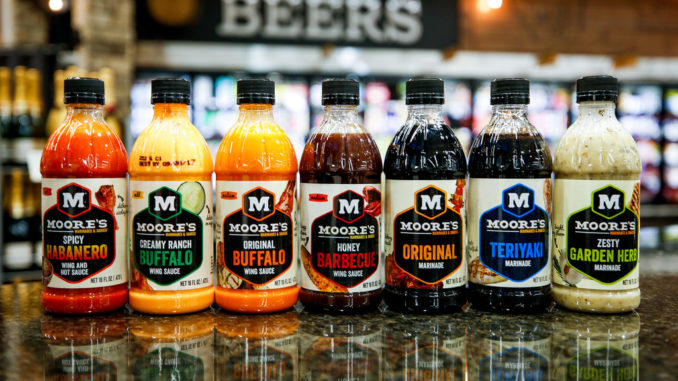 I've always been a patsy for toffee.  Put me near a boardwalk and I immediately gravitate to the nearest toffee vendor. At the Summer Fancy Food Show his year, I felt the same pull and ended up at the Everton Toffee booth. Everton Toffee was founded in 1753 in the village of that name in England, which is recognized as the birthplace of toffee. It's now manufactured in El Segundo, California, and the original toffee has been joined by Butter Toffee pretzels with roasted cashews, individually wrapped   Butter Toffee Caramels and Butter Toffee Pretzels in Original and Pecan Flavors. 
I am also a devoted foe of flabby imitation maple syrup, passionate enough to politely hand it back to waiters. I sometimes feel I ought to carry my own. My next favorite booth at the show was Runamok Maple, which has a line of barrel-aged, smoked, and infused maple syrups. Although I am quite happy with unembellished Grade B maple syrup (a class, not a quality denominator), I did develop a liking for Runamok's cinnamon and vanilla offering. Runamok unveiled new flavors at the show: Merquén-Infused, a rich take on maple syrup with a hint of smoky chili peppers combined with maple's caramel tones, and Ginger Root Infused, a spicy and sweet blend, made with fresh and organic ginger, giving the maple syrup a flavorful twist.
Cultured Coffee
I will, someday, introduce Cultured Coffee to my guests who insist on only decaf. Cultured Coffee is a whole new take on coffee introduced by Afineur, a biotechnology company Afineur, which uses   controlled natural fermentations, and harnesses microbes to improve coffee quality. Beans undergo a double fermentation before processing, making the brew more   attractive for people who love coffee, but may have stomach issues with traditional brewing procedures.
I also developed a liking for Cherrish cherry juice, an all-natural blend of sweet Bing and tart Montmorency  cherries. Each 8-oz can contains a   mix of 64 cherries, equal to three  servings of fruit. It is billed as a superfood which helps boost the immune system, aids muscle recovery and improves sleep patterns. Cherrish comes in three forms, Cherry Original, Cherry Pomegranate, and Cherry Blueberry.
 The people who make Bruce Cost Ginger Ales stress that it is 100% fresh ginger with nothing artificial in the drink.  They leave pieces of ginger in each bottle and advise consumers to " shake gingerly."   The line includes Original Ginger Ale (bottle and can),66″ (66 calories with monk fruit) Jasmine Tea, Ginger Beer, Pomegranate with Hibiscus, Passion Fruit with Turmeric, and Blood Orange with Meyer Lemon. I am enthused over the Ginger Beer.
I am including opinions on additional products from others who attended the food show:
.
The Owl's Brew. Radler brews organic  premium beers blended with fresh-brewed organic teas, infused with real fruits and botanicals. Reported to be the first-ever line of tea paired beer ."A refreshing and light beverage."
Smith & Salmon, Sap! Birch Soda: Organic, non-GMO, gluten free. Sparkling birch sap beverage This line is expanding from maple soda and seltzers to include the whole forest. This new birch water soda is made by tapping the sap from birch trees, which offers a subtle caramel flavor in this light bubbly drink.
A LAPFUL OF SNACKS
Lebby Chickpea Snacks, Dark Chocolate. Gluten-free, vegan, kosher. Lebby chickpeas are roasted through a process that  gives a firm texture and flavor. Chickpeas are packed with protein, vitamins and minerals and contain 70% less fat than roasted peanuts. Flavored with natural ingredients. "These chocolate- covered chickpeas were really unexpectedly delicious."
Sheffa Foods, Savory Bars. Gluten-free, non-GMO, vegan, kosher, low in sodium and sugars. Whole-grain brown rice paired with quinoa, millet, amaranth, chickpeas, and sunflower seeds, with a touch of olive oil that creates a crunchy, perfectly seasoned bar made without sweeteners or fruits.
Welcome
Cucina and Amore, Farro Meal. Preservative-free, gluten-free, non-GMO, vegan (except Basil Pesto). Ready-to-eat quinoa meals in four different flavors. Comes with fully cooked quinoa, mix-in sauce, and a spoon. Can be enjoyed as is or heated up in its microwaveable cup. The concept makes being healthy effortless with a blend of farro and veggies in a microwavable container."
One Culture Foods, Ramen Cups. Non-GMO, free of artificial flavors. Microwaveable ramen bowls with a variety of influences: spicy Japanese bowl, Taiwanese beef, Vietnamese pho, and Chinese chicken noodle. " . The Japanese spicy ramen is made with a bone-broth reduction, the optional salt packed allows for nice customization, and everything is
Tsubi Soup, Spicy Red Miso. Gluten-free, non-GMO, vegan, no MSG, fully traceable farm to fork. Freeze-dried instant soup cube that delivers the delicious and nutritional benefits of authentic Japanese miso in an easy-to-make, single-serve package. Plant based, nothing artificial, delicious, easy, just add hot water.
LATE STARTER: DOMESTIC ARTISAN PROSCIUTTO AND SALUMI
Shortly after the Food Show closed, Niman Ranch unveiled a new line of prosciutto and salami,  I think it is worthwhile  to include  this development. The meat comes from a carefully natured cross of heritage breeds raised by more than 700   family farmers, part of the Niman Ranch family, and committed to sustainable and humane processes for their pork.
The prosciutto I tasted was flavorful, with a sweet rich taste, developed after a year of curing under  Sicilian Sea Salt. It's much milder than the imported and domestic prosciutto I'm accustomed to eating and it mates beautifully with cantaloupe, which is how I enjoyed it at home.
Photos: Courtesy of each product