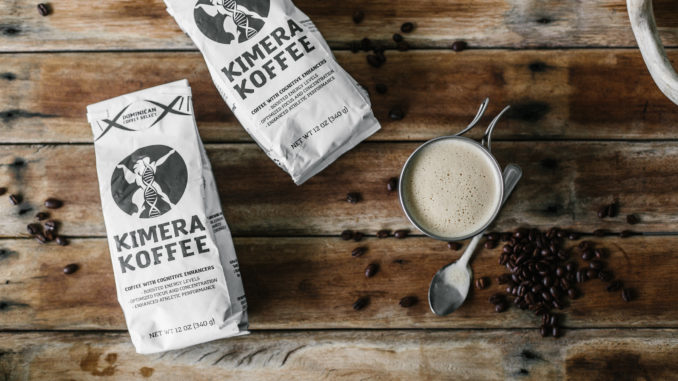 Kimera Koffee is going to change the way you think of coffee because they literally changed the coffee you are drinking. Kimera Koffee is a premium Caribbean coffee infused with nootropics, known to improve focus, enhance cognition, and elevate mood.
You probably are used to getting through the afternoon with a little bit of caffeine from your cup of coffee. Now imagine if you can add in all of the benefits of nootropics. You not only are going to have the energy to stay awake after lunch, but your brain is going to kick into another gear and you are simply going to be more efficient and you are going to have greater output regardless of what you are doing.
"Our logo is a half man, half-beast that represents you as a person and who you want to become," said co-founder Frankie Pimentel. "We're trying to encourage people to evolve and strive for better, and our coffee can give them the tools to do that."
Kimera really takes on that hybrid name as you really will feel the benefit of both the coffee and nootropics. The unique roasts feature locally grown, single-estate artisan coffee beans that are packed with 725mg of premium grade Nootropics—specialized all-natural amino acids that are proven to boost brain productivity and energy output. Website: www.kimerakoffee.com
If you love great tasting coffee then you certainly will love Kimera as they developed a great coffee and then added the magic of nootropics to give you the most unique coffee you have ever experienced. Once you have a cup of Kimera Koffee you will never look at coffee the same way again.
For additional information, visit:
About:
Kimera Koffee is the first coffee on the market to infuse premium grade beans with natural cognitive enhancers. They are proud supporters of the Belarminio Ramirez Foundation, which uses their donations to provide school materials, clothes, food, and basic household appliances to communities in the Dominican Republic's farming towns. Kimera Koffee can be purchased online as well as at select retailers in the USA, Canada, Ireland, the United Kingdom, South Africa, Australia, and New Zealand.