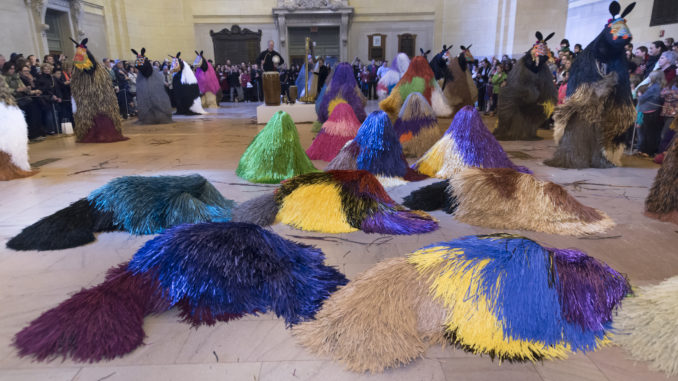 In conjunction with Choose Chicago, the city's tourism and marketing organization, Chicago's Department of Cultural Affairs and Special Events, EXPO CHICAGO is currently presenting EXPO ART WEEK, September 11–17, 2017. EXPO ART WEEK partners with Chicago's most prestigious institutions to feature select aligned programming, including museum exhibitions, gallery openings, artist talks, public art projects, open studios, and outdoor installations.
This reviewer was fortunate enough to attend a preview exhibition of the artwork from 135 international galleries, 25 countries and 58 cities, and I heard about the launch of a new partnership for 2018 uniting The Terra Foundation for American Art, The Chicago Humanities Festival and EXPO CHICAGO in conjunction with Art Design Chicago. Not only is the art currently on display at EXPO CHICAGO almost overwhelming in its scope, particularly as positioned within the rest of the programming, but with the new alliance for next year, EXPO CHICAGO 2018 promises a wealth of innovation next year.
Two allied shows taking place outside of Navy Pier were the Gaetano Pesce exhibit of versatile, wildly colored large resin (some light-filled) pieces at the Peninsula Hotel and the enormous detailed and whimsical Takashi Murikami show, "The Octopus Eats it's Own Leg" at the MCA.
EXPO CHICAGO, dedicated to rigorous/challenging programming, hosts the /Dialogues panel series, featuring provocative artistic discourse with leading artists, curators, designers and arts professionals on the current issues that engage them as well as IN/SITU, showcasing large-scale sculptures and site-specific works, EXPO VIDEO, highlighting a dynamic screening program for film, video and new media works; and much more.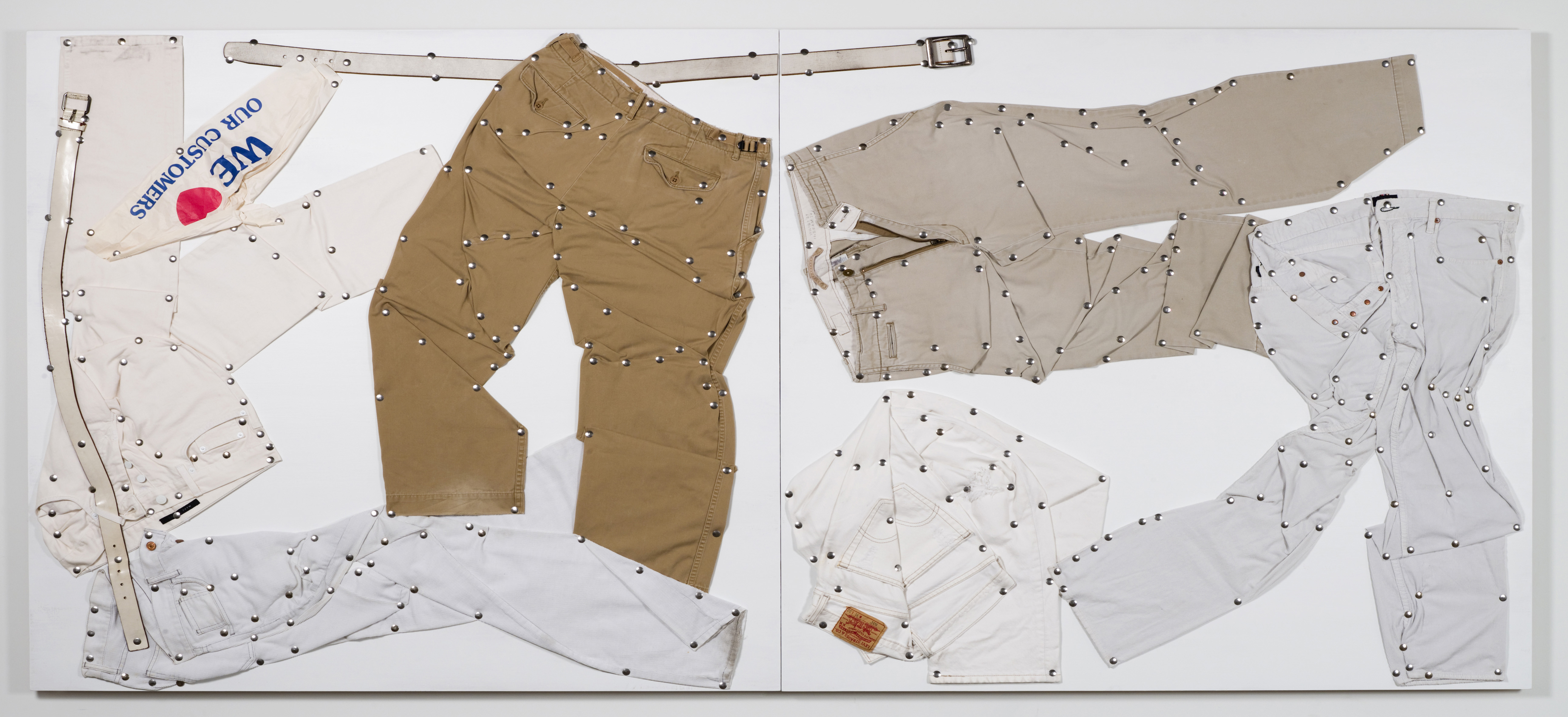 The second annual EXPO CHICAGO Art Critics Forum will highlight significant issues in arts journalism today. Hosting leading national and international critics to discuss topics related to writing, authorship and publishing amongst their colleagues and peers, the 2017 Forum, "Criticism in the Post-Truth Era," will address the impact of the current political climate on the state of art journalism.
On September 14th, one of the panels discussed Art Journalism in the Post-truth era; a fascinating panel addressed issues of scholarship in the era of social media, demands for immediate news turn-around, and commentary vs. in-depth reportage.
The inaugural program of EXPO Sound has been curated by Daata Editions, an online platform for the sale of commissioned artist video, sound, and web art editions launching new artworks by select international artists. Installed throughout the public speaker system at Navy Pier, and on the /Dialogues Stage inside the exposition hall, the program also features select work by artists represented by EXPO CHICAGO 2017 Exhibitors.
Singing Stones, curated by the Palais de Tokyo's Katell Jaffrès, brings together 11 emerging artists from both the French and Chicago art scenes, as part of the first Hors les Murs exhibition in the United States. Presented within The Roundhouse at the DuSable Museum of African American History, the exhibition presents "a unique and intimate dialogue between original productions and pre-existing works" and will run concurrently through EXPOChicago and the 2017 Chicago Architecture Biennial (September 16, 2017–January 7, 2018).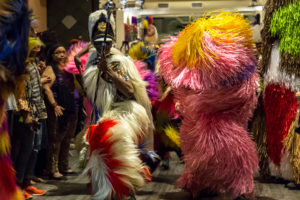 EXPO VIDEO features a dynamic, curated screening program for film, video and new media works by artists represented by 2017 exhibitors. Curated by Los Angeles-based independent curator Ali Subotnick, the program is presented within large-format screening rooms on the main floor of the exposition.
Navy Pier, as Chicago's mission-driven cultural district, is the perfect space to showcase the works of world-renowned contemporary artist Nick Cave and international architect and MacArthur Fellow Jeanne Gang. These two creative giants are collaborating to present Here Hear Chicago, a new site-specific project series that incorporates art, design and performance, featured at the Pier on September 13th and 16th as part of the free public programming for the Chicago Architecture Biennial and EXPO CHICAGO, the International Exposition of Modern & Contemporary Art.
The joint project is an extension of Navy Pier's ongoing commitment to offer guests free, one-of-a-kind arts and cultural programming, designed to inspire, educate and connect communities across the city and globe.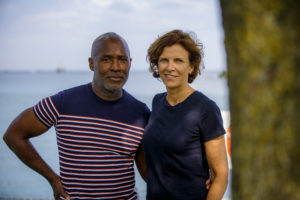 Here Hear Chicago also showcases one of the most respected jazz musicians and composers of his generation, Sir Kahil El'Zabar and his Art Music Ensemble, (The AME) who perform the music for Up Right Chicago and HEARD Chicago, with new original 4-5 movement pieces composed by Maestro El'Zabar as arranged by Robert "Baabe" Irving III. The Art Music Ensemble features multi-instrumentalist/percussionist El'Zabar along with a stellar roster of internationally acclaimed master musicians, including Alex Harding, Charles Heath, Ian Maksin, Tammy McCann, Jamaaladeen Tacuma and Corey Wilkes performing fresh, adventurous music that inspires their audience spiritually and emotionally uplifted.
The highly anticipated collaboration presented a series of live productions in which performers interacted and responded to a field of dynamic, custom-fabricated objects designed by Gang and her practice, Studio Gang. The performance series kicked off on September 13th at 8:30 PM with Cave's newest performance work, "Up Right" set to the live music composition "Up Right" composed and performed by legendary jazz musician, maestro and composer Sir Kahil El'Zabar and the AME.
After a promenade into the Aon Ballroom, El'Zabar's hugely inspiring avante-jazz with atonal, almost eerie insertions surrounded Cave and a group of young men on a stage lined with buoys. They were garbed in furry "soundsuits" in popsicle colors by acolytes in white after which they wandered about, engaging with each other and members of the audience. Finally, Cave set the buoys in motion.
On September 16th, two performances of "Heard", set to El'Zabar's piece of the same name, will be performed by this prolific innovator, the Chicago Children's Choir and the AME at 1PM and 3:30 PM in the Polk Brothers Pavilion, Navy Pier.  El'Zabar, who calls himself "a student of life", describes the piece as filled with "discovery and reflection, acceptance and rejoicing, new understanding and thankfulness".
All photos courtesy of EXPO CHICAGO unless otherwise noted