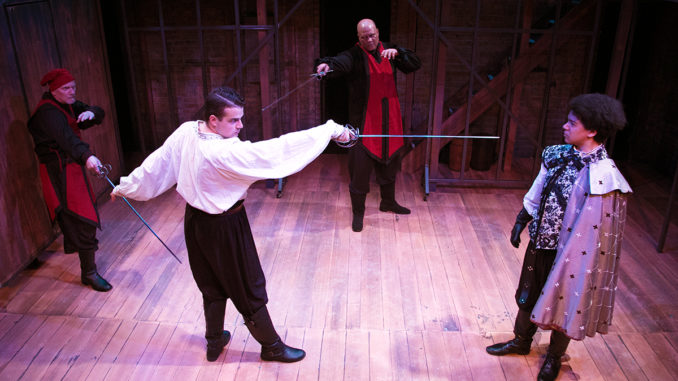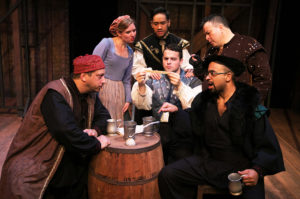 Lifeline Theatre presents Her Majesty's Will, a swashbuckling historical fiction starring none other than William Shakespeare and Christopher Marlowe. Adapted from the 2013 novel by David Blixt, Her Majesty's Will follows the two famed playwrights in their young adulthood as they race to stop an attempt on the life of Queen Elizabeth. High-energy, boisterous, and campy in the best possible way, this exciting romp of a show is fun for all ages.
Before he was a playwright, William Shakespeare was a schoolteacher. Or at least, according to the version of events in Her Majesty's Will. Historical fact is handled loosely in the show; some elements, such as Christopher Marlowe's working as a spy for the English government and the two men's not being heterosexual, have more plausible historical basis. Others, such as their brave rescue of the Queen of England from an assassination attempt at the Globe and Shakespeare's troubled relationship with his late father, are entirely speculation.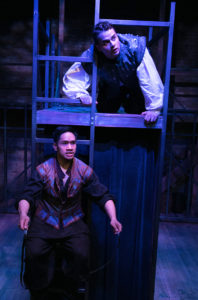 A few of the Shakespearean references are a bit forced and a few of the puns a little too groan-worthy, but ultimately, the story is best enjoyed when embraced for what it is, borderline absurdity, factual liberties, bright-eyed idealism, and all. After all, there is something purely delightful about indulging in the idea that Shakespeare and Marlowe were lovers who cracked secret codes, escaped pursuit from their enemies, and devised clever plans to save the nation's sovereign, all while believing in their heart of hearts that theatre is a force for good in the world.
Bryan Bosque, who plays Marlowe, is an utterly charming actor with great range and a strong sense of comedic timing. His roguish, high-energy performance and captivating stage presence are perhaps the most enjoyable part of the show. Javier Ferreira is an excellent Will Shakespeare as well; he brings a youthful ideality and firmness of conviction to the young bard that is a joy to watch. The duo are well-matched, and their dynamic drives the play as much as the plot does.
Heather Chrisler, the sole female actor in the play, is phenomenal as well, especially as the spirited Chorus and the strong, whip-smart Lady Helena. The ensemble could have used two or three more members; although it makes sense in a tale with this many players to have nearly all the actors double roles, at times later in the show it became a bit confusing to see familiar characters slide back into other, smaller roles or, worse still, adopt new ones. Lifeline should be complimented, however, on the diversity of its cast; despite a lack of women, the ensemble contains many actors of color, including the two leads.
Scenic design by Eleanor Kahn is simple but effective; moving set pieces allow for changes in location and the overall look is appropriately rustic. Period costumes by Aly Renee Amidei are beautiful and elegant, especially the elaborate gown worn by Lady Helena. Violence design by David Blixt is exciting and exquisite, especially in large-group scenes, in which every performer has carefully crafted and well-executed movement during each moment of the sequence.
The worst moment, design-wise, takes place during a bear-baiting and involves several actors in black manipulating the stuffed head and arms of bear. The result is more comical than terrifying and might have been better achieved by implication rather than attempted realization of the bear.
Her Majesty's Will is a delightful epic story, complete with sword fights, romance, intrigue, and two of theatre's favorite figures in the starring roles. I would absolutely recommend this show to anyone looking for a fun way to spend an evening.
Ticket Information
Location: Lifeline Theatre, 6912 N. Glenwood Ave.
Dates: May 26 – July 16, 2017
Times: Thursdays and Fridays at 7:30 p.m., Saturdays at 4 and 8 p.m., and Sundays at 4 p.m.
Tickets: $40 for regular single tickets, $30 for active and retired military personnel (with ID), $30 for seniors, $20 for students (with ID), and $20 for rush tickets (available half hour before show time, subject to availability). Group rate for 12 or more is available upon request. Tickets may be purchased at the Lifeline Theatre Box Office, 773.761.4477, or by visiting the Lifeline Theatre website.
All photos by Cole Simon.