"My mother used to say to me… 'In this world, Elwood, you must be oh, so smart or oh, so pleasant.' For years I was smart. I recommend pleasant."
That statement comes near the end of Harvey, the 1944 comedy that garnered playwright Mary Chase a Pulitzer Prize, and it resonates with the audience at Court Theatre. "Yes!" we want to say, "Bring back civility. Forget about smart." The twist is that Harvey wins us over by being both pleasant and smart. In spades.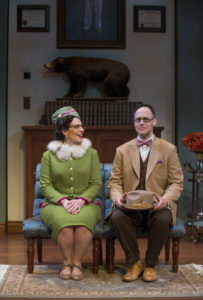 The speaker is Elwood P. Dowd, whose impeccable manners oblige him to introduce everyone he meets to his closest companion, an invisible six-foot, one-and-a-half-inch tall rabbit named Harvey. Harvey cramps the social lives of Elwood's widowed sister, Veta Louise Simmons, and her daughter, Myrtle Mae, who live with Elwood in the stately home he inherited. Mother and daughter want the giant rabbit out of their lives, and the plan they fix upon is to commit Elwood to a private psychiatric hospital.
Everything about director Devon De Mayo's production is pitch perfect, from scenic designer Courtney O'Neill's cleverly appointed set, chock-full of animal motifs, to Izumi Inaba's spot-on 1940s duds and Christina Carlson's wigs and hair designs. But it is the warmth and wit of Chase's script as delivered by a dream-team cast that makes this production especially entertaining and satisfying.
As graceful as a dancer, Timothy Edward Kane commands attention with understatement in his deeply nuanced portrayal of Elwood, teasing out every ounce of the charm Chase wrote into the character. Karen Janes Wodistch sparkles as the brittle Veta, telling her daughter, "Myrtle, you have so much to offer. I don't care what anyone says." Myrtle, archly played by Sarah Price, has enough spunk to deal with the backhanded compliment.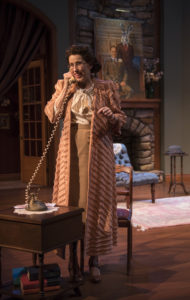 Erik Hellman and A.C. Smith play the loopy psychiatrists at the sanitarium, with Jennifer Latimore almost stealing the show as a sweetly spicy nurse and Jacqueline Williams regal as Judge Mara Gaffney. Rounding out the capable cast are Amy J. Carle in multiple roles and Andy Nagraj as a mouthy orderly.
In the program, director De Mayo says that she wants audiences to leave the theater reflecting on human kindness: "How can we treat each other better? But also, I hope that you leave with a sense of joy." Mission accomplished.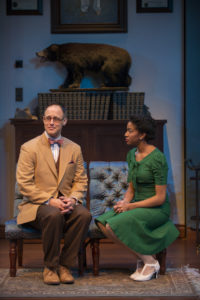 The fun continues even after the performance, when theatergoers are handed Elwood's calling cards, which direct them to a website that explores the Irish legend of the Pooka, giant rabbits being only one of several possible forms the mythical creatures may take. The exercise to find your personal Pooka is rewarding, offering up a discount to this delightful show.
Photos: Michael Brosilow
Harvey
Through June 11, 2017
Court Theatre, 5535 S. Ellis Ave., Chicago (free garage parking)
Length: 2 hours, 15 minutes
Tickets $48–$68 at (773) 753-4472 or Court Theatre.