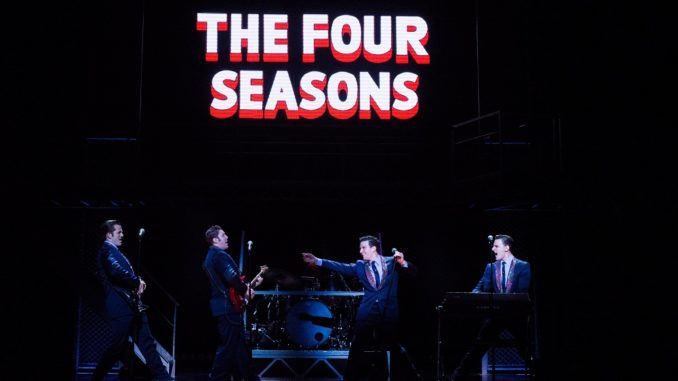 Los Angeles engagement of the Tony, Grammy and Olivier Award-winning hit musical "Jersey Boys," the story of Frankie Valli and The Four Seasons, opened May 18 and will continue through June 24, 2017, at Center Theatre Group/Ahmanson Theatre. Based on fact, it is the behind-the-music story of Frankie Valli and The Four Seasons.
Tommy DeVito (Matthew Dailey), a musically talented, street-smart, potty-mouthed hoodlum started the group with just four unknown guys from Jersey—Frankie Valli (Mark Ballas) as the lead singer, Bob Gaudio (Cory Jeacoma) on keyboards and tenor vocals, Tommy DeVito (Matthew Dailey) on lead guitar and baritone vocals, and Nick Massi (Keith Hines) on electric bass and bass vocals.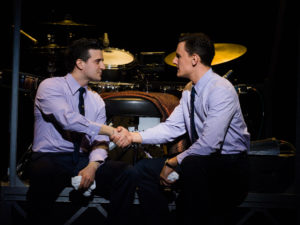 They had a sound nobody had ever heard. After singing their very first note, the radio just couldn't get enough of it. They were jet propelled overnight into the success that eventually led to their being enshrined in the Rock and Roll Hall of Fame in 1990. Initially called Four Lovers, and failing, the turning point for the group came with a partner agreement on a handshake between keyboardist/composer Bob Gaudio and lead singer Frankie Valli, who renamed it Four Seasons.
From the swinging opening scene with a French Rap Star and Backup group singing "Ces Soirees-La," (Oh What a Night), the show moves seamlessly from one act to another, with props gliding smoothly on and offstage, expanding the floor space to enable exciting dance moves, mainly performed by Mark Ballas (as Frankie Valli), acclaimed Emmy nominated dancer, and twice winner of "Dancing with the Stars."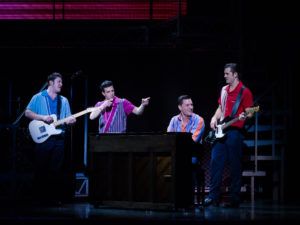 An effectively appointed, blandly colored gray stage doesn't detract from or compete with the stars' colorful costumes and actions. A center section topped by a screen showing various relevant visuals is flanked on either side by stairs made good use of, with climbing, descending, disappearing through a door on the upper level and creating an illusion of more space than actually exists. Howard Binkley's excellent lighting effects enhance color changes and dimension.
Short candid stories and acts are interspersed with an abundance of the group's most well-known, popular songs. Tommy's rough and tough talk and behavior grabs attention, some minor misdemeanors and run-ins with the law are reported, prompting his remark that, "The Jail has a revolving door!"
The feast of good music, mostly composed by the Crewe/Gaudio (Barry Anderson/Cory Jeacoma) team, features all the groups hits, including "Sherry," "Big Girls Don't Cry," "Oh What A Night," "Walk Like A Man," "Working My Way Back To You," and a fabulous rendition of "Can't Take My Eyes Off of You," by Mark Ballas, who was visibly moved by the well-deserved, prolonged audience applause.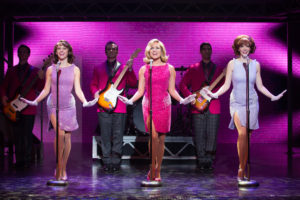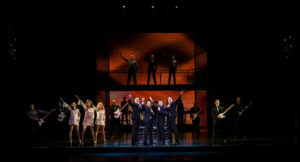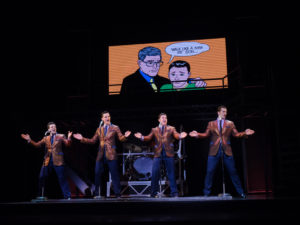 While sentimentally appealing to baby boomers and those familiar enough with the music to mouth the lyrics, a mixed-aged audience demonstrated their appreciation and enjoyment with foot tapping, swaying, hand clapping, and noisy vocal expression. The group of four, all great vocalists, are often placed behind the mikes at the footlights for huge effect, and obviously immensely enjoying themselves and drinking in the audience's ecstatic responses.
Despite the group's success and perfect stage harmony, infighting, dissatisfaction and life's vicissitudes eventually exact a toll. Frankie's long absences from home while touring with the group irreparably erodes his marriage and relationship with his teenage daughter, Francine (Leslie Rochette). Some emotionally charged scenes demonstrate fine acting by both Frankie's wife Mary Delgado (Kristen Paulicelli) and his mistress (Jesse Wildman).
An added bonus and fabulous ending to the opening night's performance was a surprise appearance by the real Frankie Valli, who got deafening applause and a standing ovation!
Congratulations to the entire talented cast, crew, and design team for the wonderful performances and staging of "Jersey Boys" at the Ahmanson. It's not hard to imagine why the show has been seen by over 24 million people worldwide (as of January, 2017). You'll be singing your way home after a really joyful musical experience! Don't miss it!
Mark Ballas will reprise his hit Broadway performance as Frankie Valli for the Los Angeles engagement of the tour. Ballas, known for his Emmy nominated work on "Dancing with the Stars," made his Broadway debut in the role last fall (October 18, 2016 – January 15, 2017).
Critically acclaimed 'Frankie veterans' Aaron De Jesus and Miguel Jarquin-Moreland will play Frankie Valli at certain performances during the week. The cast of "Jersey Boys" will also feature Matthew Dailey (Tommy DeVito), Keith Hines (Nick Massi) and Cory Jeacoma (Bob Gaudio) as The Four Seasons, with Barry Anderson and Thomas Fiscella.
The ensemble of "Jersey Boys" includes Mark Edwards, Corey Greenan, Bryan Hindle, David LaMarr, Austin Owen, Kristen Paulicelli, Leslie Rochette, Andrew Russell, Jenna Nicole Schoen, Dru Serkes, Jonny Wexler and Jesse Wildman.
"Jersey Boys" opened at the August Wilson Theatre on Broadway to critical acclaim on November 6, 2005, running 11 record-breaking years and becoming the 12th longest running show in Broadway history. It is the winner of the 2006 Best Musical Tony Award, the 2006 Grammy Award for Best Musical Show Album, the 2009 Olivier Award for Best New Musical and the 2010 Helpmann Award for Best Musical (Australia).
Directed by: Two-time Tony Award-winner Des McAnuff, "Jersey Boys" is written by Academy Award-winner Marshall Brickman and Rick Elice, with music by Bob Gaudio, lyrics by Bob Crewe and choreography by Sergio Trujillo.
Design and production: Klara Zieglerova (scenic design), Jess Goldstein (costume design), Howell Binkley (winner of the 2006 Tony Award for his lighting design of "Jersey Boys"), Steve Canyon Kennedy (sound design), Michael Clark (projections design), Charles LaPointe (wig and hair design), Steve Orich (orchestrations) and Ron Melrose (music supervision, vocal/dance arrangements and incidental music).
Produced by: Dodger Theatricals, Joseph J. Grano, Tamara and Kevin Kinsella, Pelican Group, with Latitude Link and Rick Steiner.
TICKETS for "Jersey Boys" are available by calling (213) 972-4400, online at Center Theatre Group or by visiting the Center Theatre Group box office located at the Ahmanson Theatre. Tickets range from $25 – $125 (ticket prices are subject to change). The Ahmanson Theatre is located at The Music Center, 135 N. Grand Avenue in Downtown Los Angeles, 90012.