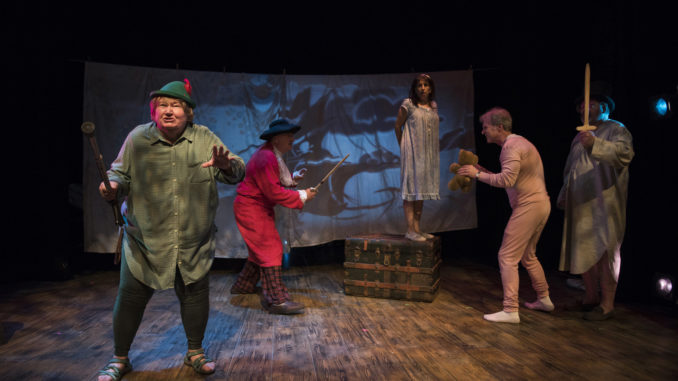 Shattered Globe Theatre presents the Chicago premiere of For Peter Pan on Her 70th Birthday by acclaimed playwright Sarah Ruhl, directed by Jessica Thebus. Written as a gift to Ruhl's mother Kathleen, who did in fact play Peter Pan in her youth and who stars in Shattered Globe's production, the play tells the story of a group of siblings dealing with the loss of their father and the truth of their own mortality. Heartfelt, sincere, and sad, this family dramedy touches on issues of faith, grief, and what it means to grow up.
The first part of the play draws only loosely from the original Peter Pan; the gaggle of siblings who gather to mourn the passing of their father share names with characters from the J. M. Barrie story, and the theme of growing up is woven throughout the conversations, with oldest sibling and Peter Pan surrogate Ann feeling the least like a grown-up of the bunch. The second half of the show transitions into a dream-like sequence that draws more directly from the classic tale, taking on a tone somewhere between satire and sincere appreciation. The dream sequence depicts what it might look like for the children to return to Neverland having aged.
The play's women are deeply compelling. Kathleen Ruhl is particular is charming as Ann, and her simple, sincere delivery and excellent comedic timing make her a delight to watch. Eileen Niccolai brings intelligence and honesty to the role of Wendy. And Doug McDade creates an engaging and nuanced portrayal of recently deceased father George in spite of his relatively few lines.
The men playing John, Michael, and Jim (H.B. Ward, Patrick Thornton, and Ben Werling, respectively) all deliver solid acting work as well, but the brothers are relatively indistinguishable from one another, and it seems that the only reason for having three of them is for the sake of their Neverland counterparts (Jim becomes Captain Hook in the second section). The male characters feel rather redundant, which makes it hard to become invested in them as individuals.
Also, the significant age gap between the performers makes it rather difficult to believe they are siblings; Niccolai reads as somewhere in her forties, while Kathleen Ruhl is clearly in her seventies. Although Ann is the oldest and Wendy the youngest, thirty years' age difference seems a bit of a stretch.
Still, the story is a moving one. Sarah Ruhl's text blends the real and the fantastical in interesting and meaningful ways, and the use of elements from Peter Pan creates just the right mix of nostalgia and newness to tug at the heartstrings in an utterly satisfying manner. The play realistically demonstrates how growing up is not a destination but an ongoing process, one that can last an entire lifetime and that can be accepted or rejected as much as one wishes.
Beautiful projections by Michael Stanfill are responsible for most of the show's magical effects, although good old-fashioned glitter is also put to use. Costumes by Sarah Jo White help summon the spirit of the characters, particularly in the second section, without falling too much into cliché. Also, it should be mentioned that the show features a live dog, played by first-time canine actor Ophelia Chance Werling, who is an adorable additional to the cast.
Sarah Ruhl's love for her mother radiates through the text of For Peter Pan on Her 70th Birthday, and Kathleen Ruhl's love for her daughter radiates back through her performance as Ann. The play is a lovely piece of art, and Chicago is lucky to have it.
Ticket Information
Location: Theater Wit, 1229 W. Belmont Ave, Chicago
Regular Run: Friday, April 14 – Saturday, May 20, 2017
Curtain Times: Thursdays, Fridays and Saturdays at 8 pm; Sundays at 3 pm.
Please note: there will not be a performance on Thursday, April 13.
Touch Tour/Audio Description Performance: Friday, May 5 – 6:30 pm touch tour, 8 pm performance with audio description. $20 tickets available with code "ACCESS."
Tickets: $35 general admission. Discounts: $15 students, $28 seniors, $20 under 30. $15 industry on Thursdays with code "INDUSTRY." Tickets are currently available at the Theater Wit website, in person at the Theater Wit Box Office or by calling (773) 975-8150.
Group discounts are available by contacting gr********@sh************.org or by calling (773) 770-0333.
All photos by Michael Brosilow.