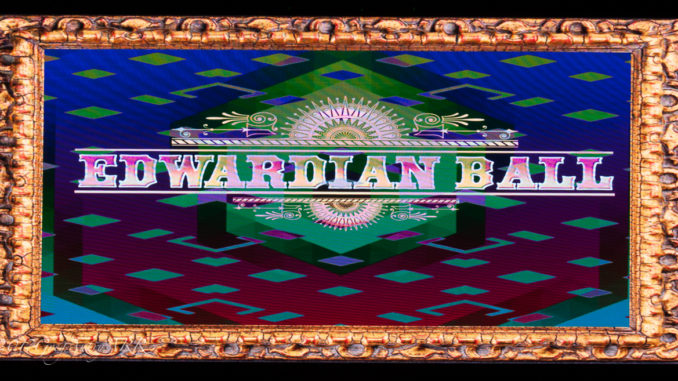 By Greg Autry
Photography by Greg Autry*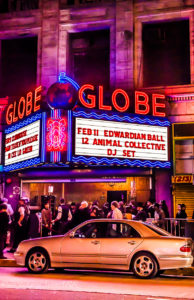 I covered the 8th Annual Los Angeles Edwardian Ball on February 11th, of 2017, which was held this year at the Historic Globe Theater, 744 S Broadway, in downtown Los Angeles's Historic Theater District on Broadway.  The new venue was an exciting opportunity to check out one of the magnificent old theatres from the 1930's, here in Los Angeles.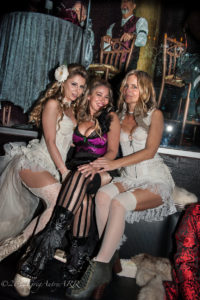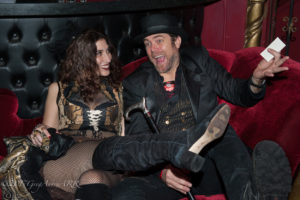 The Edwardian has now dramatically expanded its 2017 Season of Festival Events Honoring the Late-Great Macabre Comic Artist, Cartoonist, and Graphic Novelist Edward Gorey. Known for its original underground beginnings, in San Francisco, then expended to Los Angeles, PARADOX Media and Vau de Vire Society have announced a new and exciting Ball which will be held in New Orleans, in March of this year.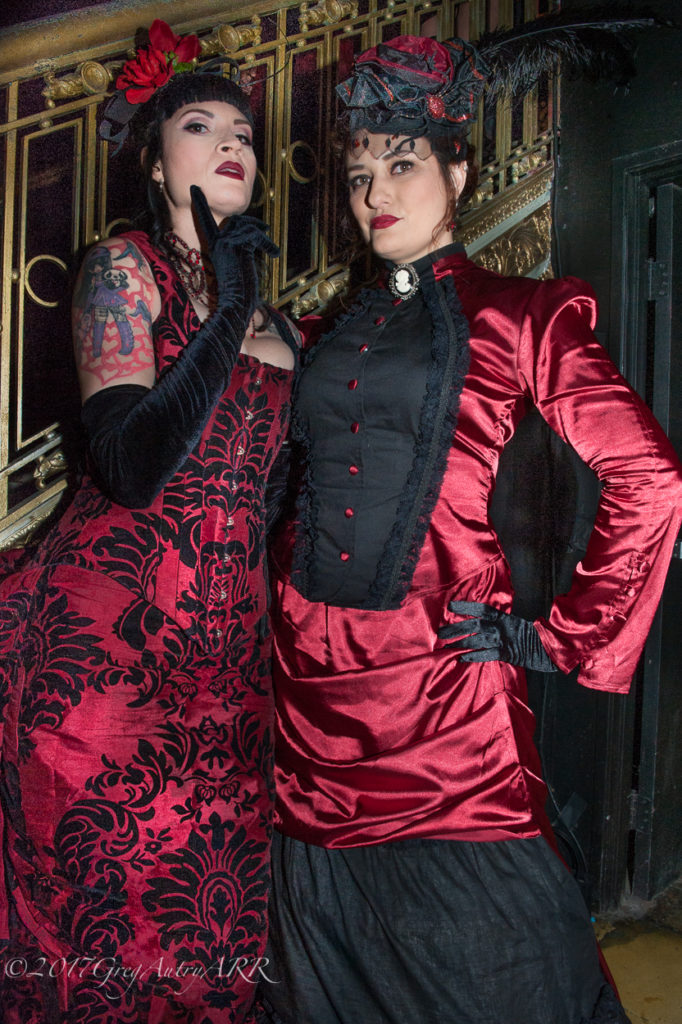 Edward Gorey is the ground-breaking, genre–defying and critically-acclaimed graphic novelist who is credited with influencing many well know artist of the macabre, including;  Charles Addams, Lemony Snicket, and Tim Burton, among others.
If you have not read my previous reviews of past Edwardian Balls, I tell you now that the Edwardian Ball's present a unique blend of live music, theatre, fashion, circus, fine art, riveting stage shows, literature, ballroom dancing, DJs, and character play in an enticing and whirlwind alternative universe extravaganza.  I've met many friends at the Edwardian Ball, and always cherish the opportunity to cavort and play, all the while paying my small part in tribute to the creativity of all those who attend and put so much thought and time into creating such amazing costumes.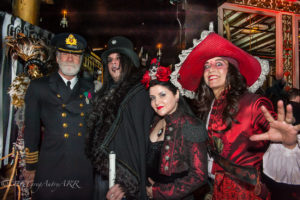 For all its Promotions , Performances, and Themes, the
Edwardian Ball is really about those who Attend, who Participate, and those who Perform. My photos are those I capture to best try and encapsulate what magic transpires in an evening at The Ball.
This multi-city, multi-media exposition of the eccentric and esoteric, long-considered San Francisco's time-traveling boutique amalgamation of Cirque du Soleil-meets- Mardi Gras, has grown over the past sixteen years from an underground club party into an internationally recognized festival of the arts, drawing attendees from all over the world, operating with the blessing of The Edward Gorey Charitable Trust.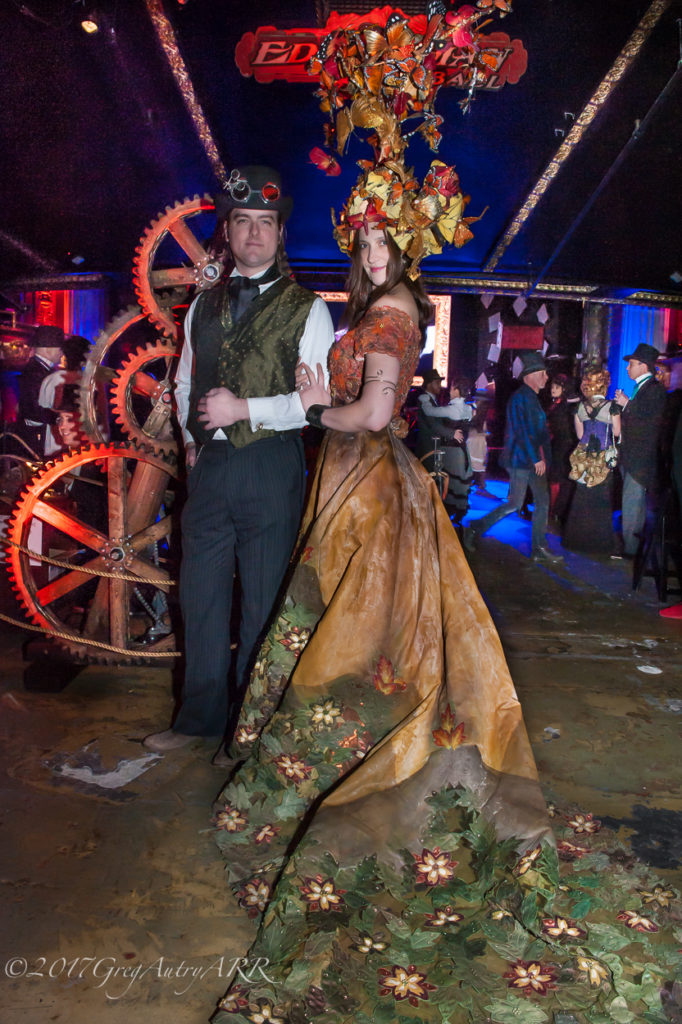 Each year, as part of its extensive entertainment offering, the Edwardian Ball stages a raucously capricious, whimsical, dramatic and climatic theatrical production of an Edward Gorey tale as the centerpiece performance. This year in LA, I was particularly taken with the Fashion Show, ROSECOCO, presented on the stage of the Globe Theatre by Autumn Adamme's, Dark Garden Corsetry & Couture, and featuring the inspiring vocals of Kat Robichaud. Kat sang as the central dark figure surrounded by `the Ivory Girls' as a projection of the Versailles Hall of Mirrors provided background to splendiferous affect.
Dark Garden's 2017 offering of Rosecoco feature the designs of Autumn Adamme, Marianne Faulkner, and Kalico Delafey, who was inspired by the soft and delicious hues of the albino peacock.
Dark Gardens creates stunning clothing and couture and is seen on runways from London and Berlin, to the stage shows of Dita Von Tease and of course, The Edwardian Balls. Dark Garden is located in San Francisco and can also be found at reVamp, in Los Angeles.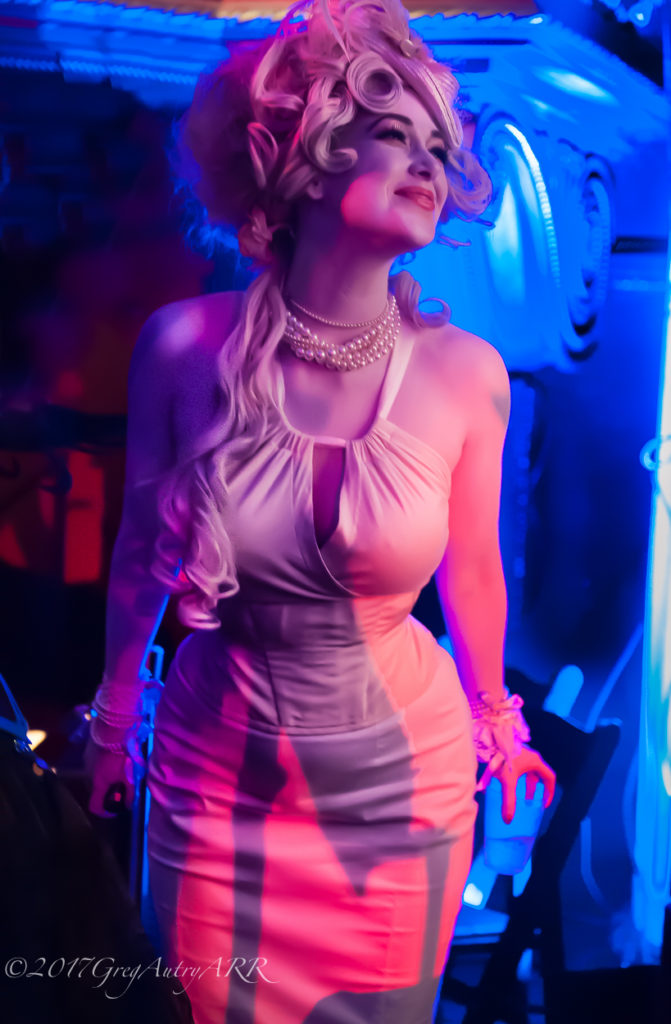 Justin Katz, executive producer and co-founder of the Edwardian Ball, states, "This year we present a hat tip to the cinematic murder mystery noir in our presentation of 'The Deadly Blotter.' The three Edwardian Ball affairs, staged in three unique and distinctive cities, each sharing the same commonality in cultural magnetism, mysticism, and magical allure, as well as troubled, tragic and tortured pasts, are, in a way, the three parts of a trilogy.
Aficionados of the arts, music, literature, and cinema, who relish community participation and a desire to create and perform as Edward Gorey characters in the chapters of their own individualistic plays, will find their home in these darkly gothic, romanticized, gilded and gentile Neo-Victorian and Edwardian-era parties that imagine an alternative distant past which intertwines with an elegantly re-imagined future."
I would make note that over the years, the patrons of the Edwardian Ball have expanded perhaps the theme costume theme, to allow for ever more fantasy themed attire, while still remaining somewhat true to the Edwardian era.  No one will be "Eighty-Sixed," because their costume is not exactly period correct.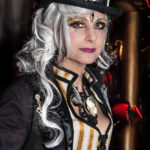 Other darkly decadent and delightful attractions include a Portrait Booth, the Museum of Wonders, and locally distilled absinthe cocktails. There is also steam-powered art and installations, parlour games, alluring sideshows, and much more, as you can see in my photos herein.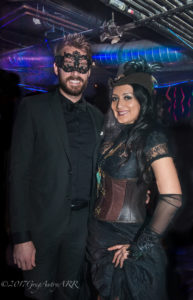 I'd like to note here that the Downtown Los Angeles Historic Theatre District is home to some amazing Grand Old Palaces of the Golden Era of the 30's. It is in fact the largest historic theatre district listed on the register of Historic places.  Los Angeles could go a long way towards it downtown revitalization by providing owners with access to funds to rehabilitate and refurbish these grand old marquees.
Just down the street from The Globe Theatre, is the newly renovated Clifton's Cafeteria. After a five million dollar restoration the old cafeteria is doing a 'bang up" business, as an eatery and as a destination special events venue. I remember going to Clifton's as a child, when LA had its own trolley cars. I've included some photographs of the downtown area today, which is making a remarkable comeback.
The Inaugural New Orleans Edwardian Ball will be held Saturday, March 25, 2017, from 8 pm to 3 am at Generations Hall, 310 Andrew Higgins Drive, New Orleans, Louisiana 70130. As always, 21 and over, Creative Period Costumes strongly encouraged.
*All Images c2017GregAutry ALL RIGHTS RESERVED