Circle Theatre presents Venus in Fur, a dark comedy written by David Ives and directed by Charlotte Drover. Inspired by Leopold von Sacher-Masoch's nineteenth-century novella of the same name, Venus in Fur tells the story of a woman determined to prove she's right for the lead role in a playwright/director's new show. But as the audition goes on, the director learns that this leading lady may be more than she appears. Intricate, captivating, and darkly funny, Venus in Fur is a scintillating play that addresses issues of sex, gender, and power through myriad lenses.
David Ives' script is complex and layered. Contained within ninety minutes is an adaptation within an adaptation, a power struggle within a power struggle, and the inherent meta-theatricalism of a play set in an audition room, with actors playing actors and theatre tackling theatre. The text is rich and gorgeously intricate, blending the lines between reality and fiction with masterful subtlety, sliding between the audition room and the world of the play-within-the-play gracefully and increasingly rapidly, until the distinction becomes nearly impossible to identify.
These shifts are handled masterfully by Zach Livingston and Arti Ishak as Thomas and Vanda, respectively. Ishak in particular is stunning in her ability to shift completely between roles, flawlessly embodying a ditzy actress, a cultured 1870s woman, and a goddess in turn. Her vocal choices are so strong and specific that these changes in character would be easily identifiable even with one's eyes shut. The dynamic between the two performers is electric; Ishak and Livingston handle every subtle moment, every exchange of power with a deftness and grace that is nothing short of breathtaking.
The casting of a woman of color as Vanda is significant as well. Traditionally, this role, as with nearly all roles in theatre, has been played by a white person. Not only is Ishak an extraordinarily talented actor and the perfect choice for the part, but imagining this powerful and complex character as a woman of color adds an important new resonance to the story. For one thing, seeing a woman of color embody a goddess-like figure in a culture that is so eager to snatch power away from anyone non-white and non-male is significant in and of itself. For another, the script takes on new meaning in this context.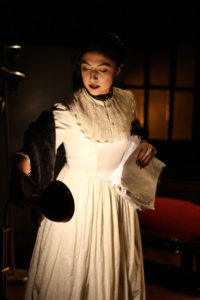 Thomas' proposal that "race, class, and gender" are reductive topics for plays and Vanda's subsequent resistance to that idea hold more weight when Vanda speaks as someone of not only a different gender but also a different race than Thomas.
The most significant moment this casting creates, however, takes place at the top of the show. While trying to brush Vanda off, Thomas states vaguely that she's not right for the part because they're "looking for someone more…" and trails off. In his hand is a headshot of a blonde woman.
The play is performed at The Heartland Studio in Rogers Park, which seats perhaps two dozen audience members. The size of the space is perfectly suited to the story being told; the audience is immersed in the world of the play and intensely and intimately connected to its characters and events. Scenic design by Emily Boyd makes smart use of the small space to create a springboard for the imagining of various times and places.
Costumes by Elsa Hiltner are simple but elegant, with Vanda's costumes in particular serving as an excellent embodiment of her various personas. And violence and intimacy design by Sasha Smith provides both realism and beauty to two of the most essential elements of the storytelling.
Venus in Fur is a brilliant play, produced brilliantly by the folks at Circle Theatre. I cannot recommend it highly enough.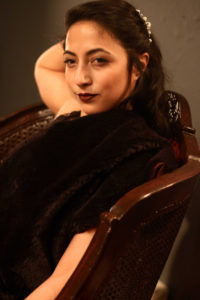 Ticket Information
Location: The Heartland Studio in Rogers Park, 7016 N. Glenwood Ave.
Dates: February 18 – March 19, 2017
Industry Nights are Mondays: February 27, March 6 and March 13 at 8 p.m.
Times: Thursdays through Saturdays at 8 p.m. and Sundays at 2:30 p.m.
Tickets: $28. Available at the Circle Theatre website.
All photos by Cody Jolly Photography