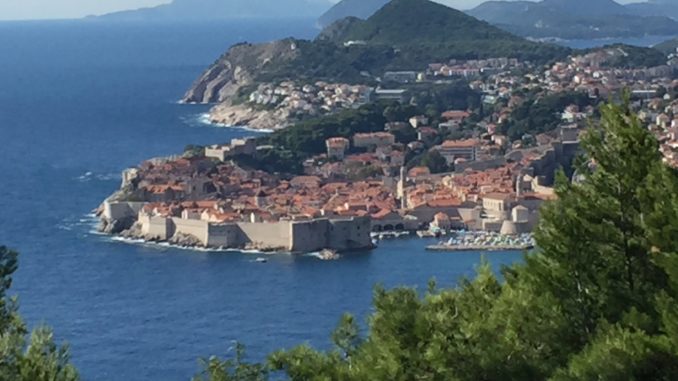 By Dianne R. Davis and Burt Davis
 Our Voyages to Antiquity cruise began in Venice and took us to stops in Ancona, Italy, Split, Croatia and then Dubrovnik before going on south to other ports on the Adriatic with numerous lectures, fine food, and comfortable accommodations.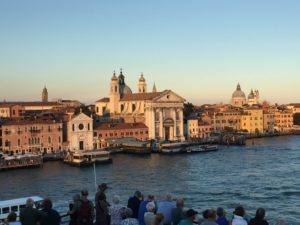 As we left the harbor in Venice after three days of touring on land with Voyages to Antiquity in autumn of 2016, we realized that we had learned so much about the sites we visited. We looked forward to seeing cities, villages, and more sites in the Mediterranean and learning more about those areas as well. That is what Voyages to Antiquity brings to its clientele. No fancy shows, no onboard photographers running around snapping you, no long lines of people disembarking and being led to tourist shops. That wasn't the kind of trip we wanted.
Voyages to Antiquity combines the benefits of small ship cruising with destination immersive itineraries. Carefully selected tours take precedence over shipboard activities. Onboard lectures and daily orientations give passengers a wealth of information about the sites they visit. Opportunities to chat one on one with an on board scholar-in-residence add to the educational and cultural aspects of the voyage. We are delighted that a friend recommended "Voyages" as it is just the kind of cruise experience we most enjoy.
Activities on the ship are focused on its destinations and include lectures and details of the ports of call. Most on-shore excursions are included in the cost and members of the excursion staff accompany local guides on shore.
The Aegean Odyssey is Voyages to Antiquity's only ship. It carries an average of 350 passengers, predominately cruisers from Australia, Great Britain, New Zealand, Canada and the USA, thus providing an international English speaking flavor.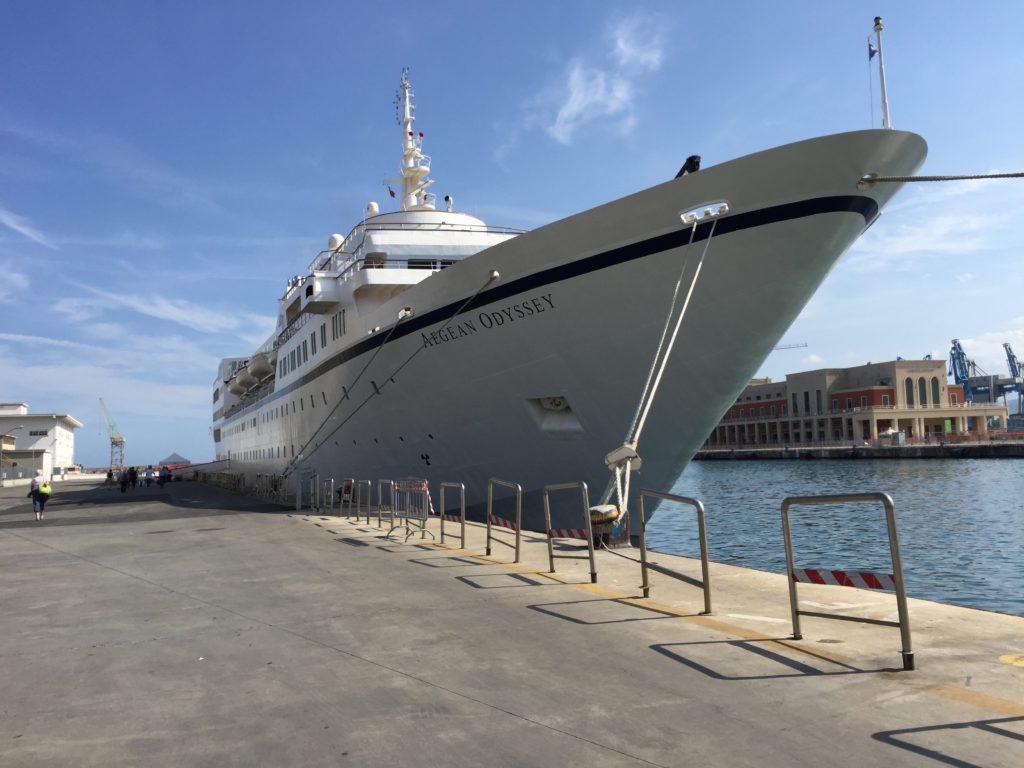 The ship's size is well suited for coastal cruising to the small inlets of the Mediterranean where larger ships can't dock. It also allows her to navigate rivers, such as Spain's Guadalquivir River and Gironde River in Bordeaux, for a unique combination of ocean and river cruising.
We spent 28 days with Voyages to Antiquity as we traveled from Venice, Italy to Madrid, Spain with stops in Sicily, Albania, Croatia, Greece, and Morocco.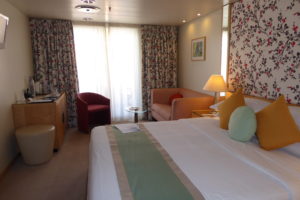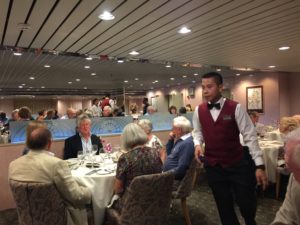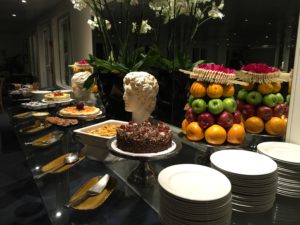 Our on-board accommodations and experiences were first rate. Food options were an upstairs buffet or culinary offerings in the Marco Polo sit-down restaurant with open seating. This was our third trip with Voyages because they offer the kind of cruise/experience that interests us – less glitz, more knowledge.
We began our Voyages adventure with a two night land stay in Venice at the Hilton Molino Stucky, then traveled south, criss-crossing the Adriatic Sea to Sicily.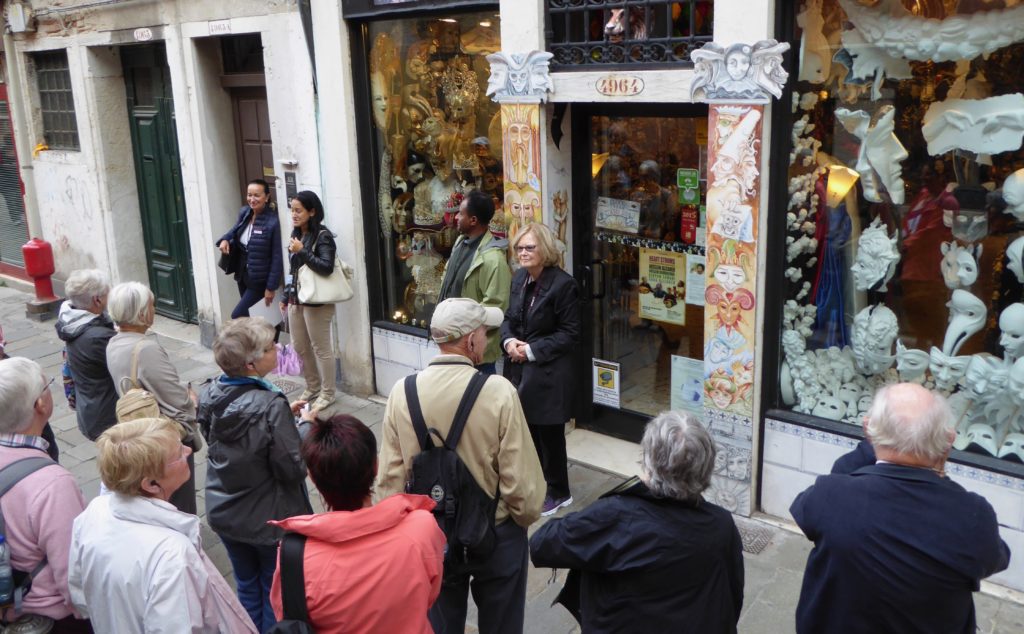 Our guide took us off the beaten path  
 Photo by Burt Davis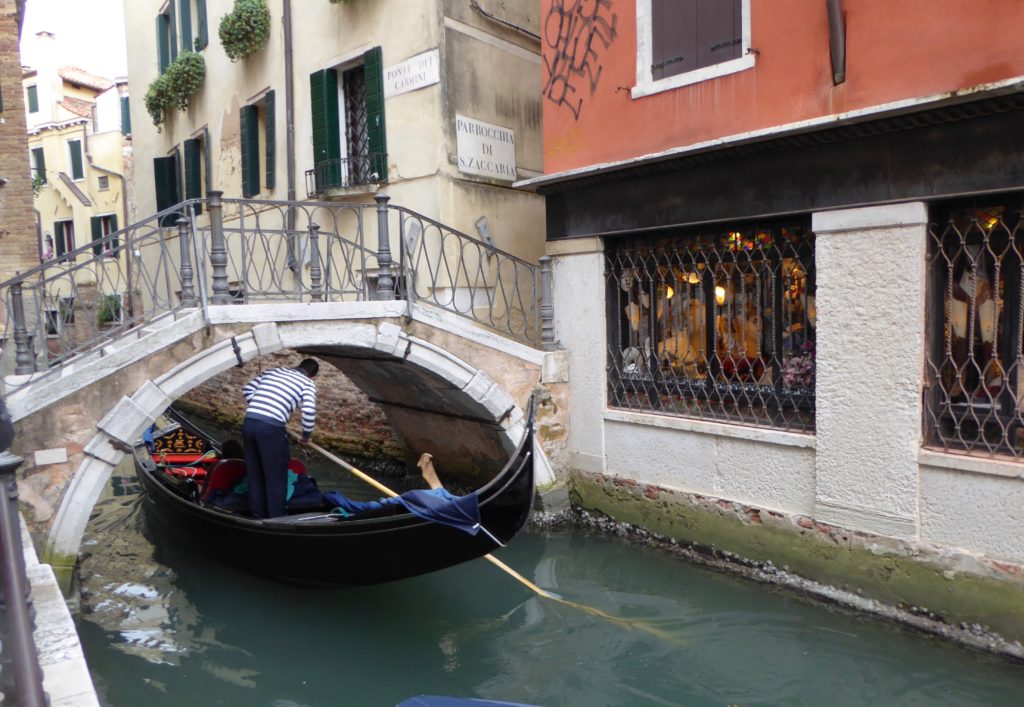 A local tour guide led us on an interesting behind the scenes walk through Venice. We avoided the primary tourist attractions and got a great perspective on local life in Venice. The walkways are a maze due to the numerous bridges crossing the canals. We have no idea how folks could find their way home at night through this labyrinth of bridges, footpaths and waterways.
This impressive 16th century structure once housed civic functions of the Republic of Venice. Napoleon in 1807 declared that it was to be the Imperial Palace. Later, Teodoro Correr began collecting art pieces. We were able to view a wide variety of pieces in the gallery that included many depicting the life and history of Venice.
Prior to boarding the ship, we took the optional tour to Venice's Aristocratic Villas. The villas were built by Venetian doges of the 15th to 18th century along the banks of the River Brenta. These villas served as summer homes where the wealthy escaped the heat of Venice.
We visited the Villa Foscari, a UNESCO World Heritage site designed by Andrea Palladio. The exterior of the villa resembles a Greek temple with its Ionic columns. The interior of the house is symmetrical since it was once shared by two families.
The Villa Pisani is now a national museum. It has 114 rooms and is most famous for huge gardens featuring a labyrinth of paths. Rumor has it that Napoleon got lost in the gardens.  Photo by Burt Davis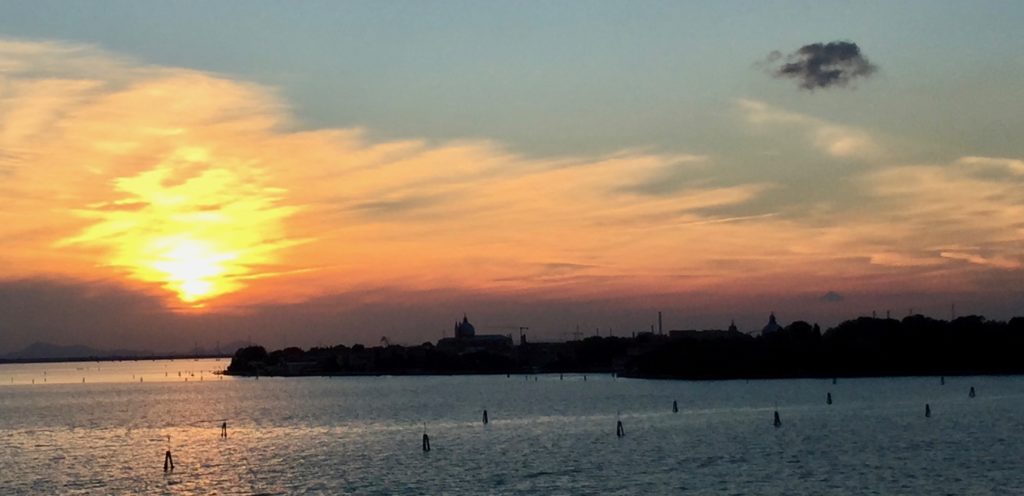 Leaving Venice on the Aegean Odyssey was a highlight of our trip. Because we were leaving just before sunset, our captain Roland Andersson urged us to go to the top deck for photos. What a wonderful experience. Cruising past the area around St. Mark's square was breathtaking.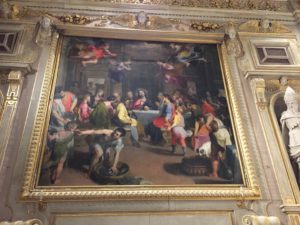 Our voyage south on the Adriatic Sea started at Ancona, Italy. We were bussed from there to the hillside medieval walled city of Urbino. This picturesque town is the birthplace of the artist Raphael. We visited his 15th century birth house  where many of Raphael's works were on display and then visited  Palazzo Ducale.  Photo by Burt Davis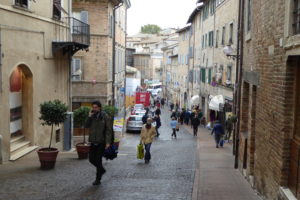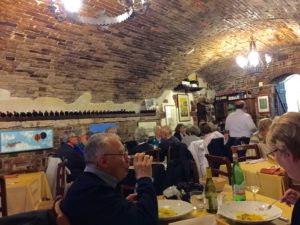 Walking up and down the hills in Urbino created an appetite which we satisfied at the Restaurant La Fornarina. What could be better than a lunch of Spaghetti Carbonara followed by a stop at the local gelato stand.
Split in Croatia on the Dalmatian Coast was our next port of call. We had once visited Eastern Croatia on the Danube River and found Split to be entirely different. Split with its 200,000 residents is a vibrant town loaded with tourists and great views.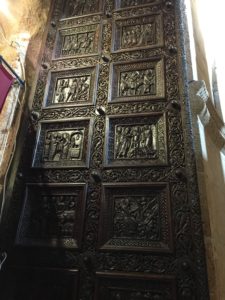 The Palace of Emperor Diocletian is the primary tourist attraction in Split. This amazing UNESCO World Heritage site was built by the emperor and served as his retirement home. The palace now consists of a variety of shops commingled with medieval fortifications and various chapels. It contains Diocletian's original octagonal mausoleum which was converted to a cathedral in the seventh century.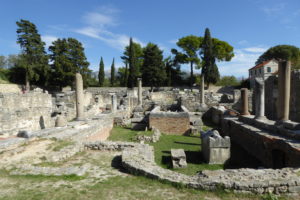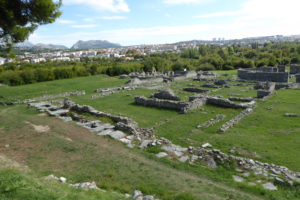 After Split, we took an interesting optional tour to the towns of Salona and Trogir. Salona is the home of a major excavation of a Roman colony that once house over 40,000 inhabitants. The excavations contains ruins of numerous churches and both Roman and Christian sarcophaguses. There are even a few Jewish Menorahs on the site. We walked on a protective wall built in the second century BC.
Dubrovnik is perhaps the best known town on the Dalmatian Coast portion of the Adriatic. Many believe that this UNESCO world heritage site is the best preserved walled city in the Mediterranean. It is now part of Croatia but was a independent town from 1358 until conquered by Napoleon in 1808.
Unfortunately, we toured the city during a rainstorm, but were still able to get a good feel for the town. Our visit to the Dominican Monastery, home to a 15th century Gothic cloister, was also a good chance to get out of the rain.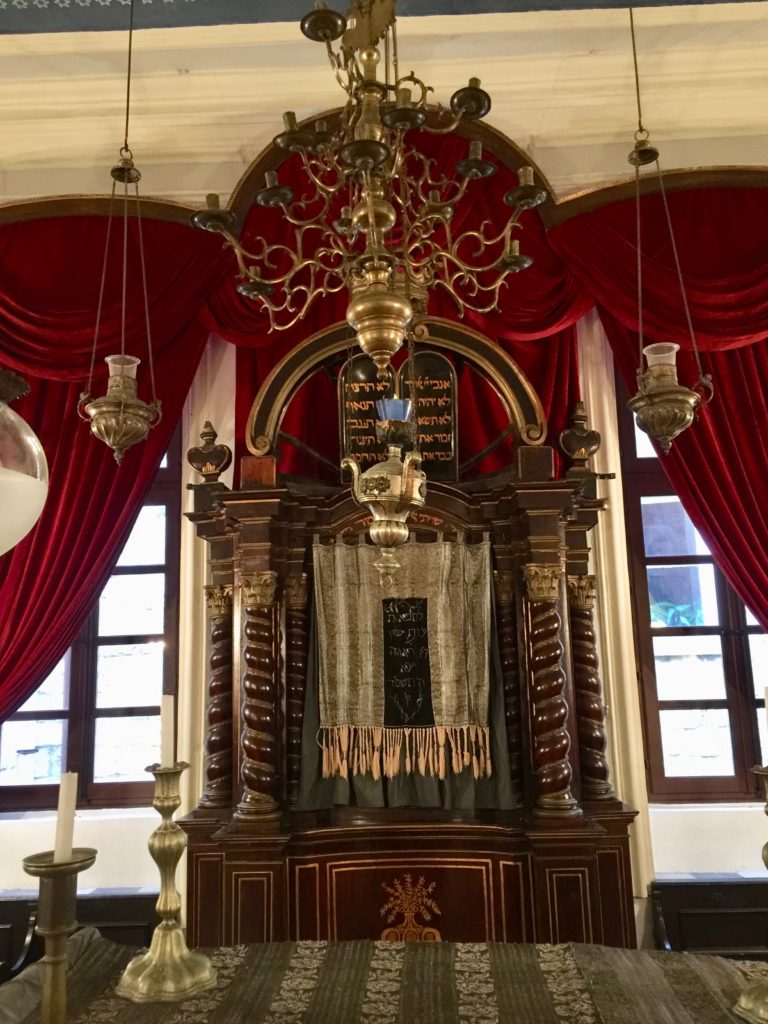 Our local guide told us the Dubrovnik has a population of 50,000, but entertains over three million visitors annually. The city suffered a major earthquake in 1667, but was able to preserve and rebuild many of the structures. We looked at the walls surrounding the city and regretted that the rain stopped us from walking on them.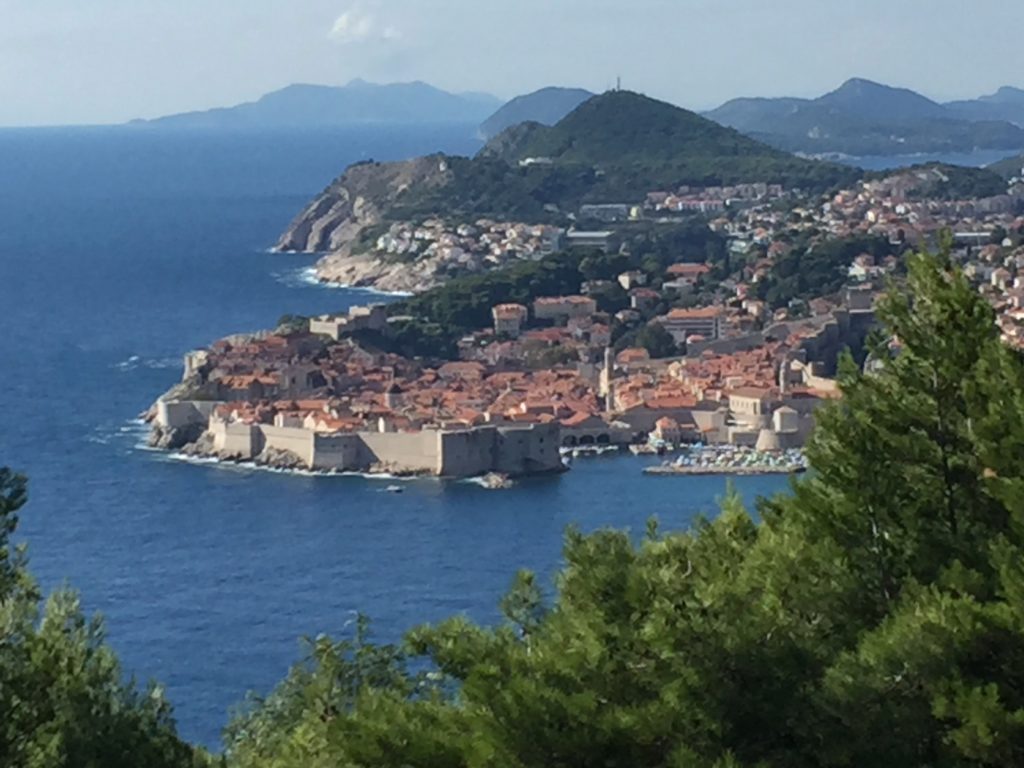 We took an optional afternoon tour to the town of Cavtat and the countryside. The bus ride took us to the top of the hills overlooking Dubrovnik where we were treated to magnificent views of the city and surrounding countryside. The view alone was worth the small cost of this optional tour.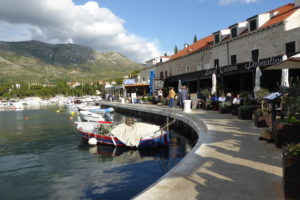 Cavtat is a lovely seaside town built on the ruins of the old Roman city of Epidaurum. We walked the cobblestone streets passing cafes and shops on one side and numerous yachts parked along the pier on the other side.
Our tour  concluded with a drive through the hilly countryside and a stop at a local restaurant situated beside the Ljuta River. We snacked on sandwiches which we washed down with local wine. Then back to The Aegean Odyssey for dinner and evening activities.  Photo by Burt Davis
Cruises with Voyages to Antiquity include lectures by visiting distinguished experts. We heard talks by well known archeologist Gillian Howell and Professor Robin Cormack. Their lectures included information about the history of the region and insights into the personalities of some of its famous travelers such as Lord Byron.
After the lectures, we looked forward to future stops with Voyages to Antiquity in Albania and Greece as we continued our journey on the Adriatic Sea and beyond. Voyages to Antiquity offers new and interesting destinations each year. Visit Voyages to Antiquity for information about 2017 cruises.